I am busy. I have a husband, two children and animals who insist on eating at least three times a day while I have laundry to fold, diapers to change and a small business to run. Some days I wonder how I will get lunches packed and a decent home-cooked meal on the table in time for supper. Then, I think of my great-great grandmother, Mary.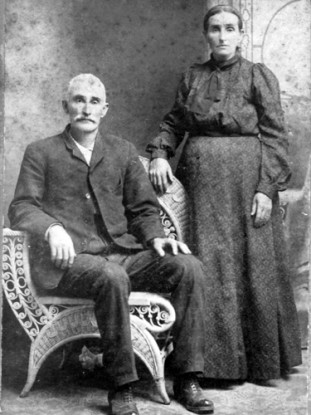 Mary was born in 1849 and married at the age of 22. The following year, her first child was born and she continued to have children until the age of 46, when she welcomed her nineteenth baby into the world. Remarkably, all but two of these children lived to adulthood, meaning that she had as many as seventeen children under her roof at any one time.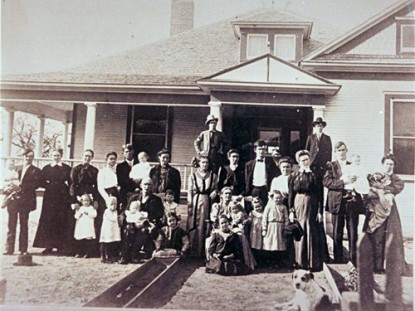 Grandma Mary (seated) with several of her children and grandchildren
Sadly, I have heard very few stories about Grandma Mary but I enjoy trying to piece together what her daily life must have been like. She would get up well before dawn to start preparing a hearty breakfast for her husband and growing boys before sending them off to work in the fields. (I wonder how many of those mornings she was battling morning sickness!) Then the other children would wake up and she would get all of them fed and dressed while making sure that the tiniest ones had clean diapers and full tummies.
She had to already be planning what to serve for lunch and dinner because those men-folk were going to be hungry when they made their way back up to the house and she couldn't feed a crowd like hers without being a masterful organizer. I picture her standing in the kitchen, peeling potatoes or rolling biscuits, while toddlers tugged at her skirts and her oldest daughters sat at the kitchen table shelling black-eyed peas. Something was almost continually on the stove or in the oven.
Keeping that oven hot was indeed a job in itself, and I'm sure it was quite unpleasant in the Texas summer. There was no iced tea to be had, either, because she had no freezer. She canned everything she could in the summer and lined the wooden shelves of their cellar with jars of fruits and vegetables to (hopefully) feed them throughout the winter.
She rendered her own lard, churned her own butter, and butchered her own chickens. She made sure that food was on the table three times a day and that there was plenty for everyone. But cooking was only one of her jobs.
Every day, the garden had to be weeded, watered and picked. Floors had to be swept. She had to make sure that the cow was milked, the dogs fed, the eggs collected, and that everyone had enough water to drink. Then she had to chase down that black-spotted piglet that had gotten out AGAIN and make time to mend a hand-me-down dress so it could be worn to church on Sunday. I can't even begin to imagine Laundry Day.
Oh, what I could have learned from this woman. When I consider all she had to do, day in and day out, rain or shine, all while tending little ones and keeping older children occupied, it's embarrassing that I ever consider myself busy at all, let alone too busy to cook for my family.
I have no excuse.
You can also find Kelly at Sowell Farm.

Do you have a recipe post or kitchen-related story to share on the Farm Bell blog?
Read information here for Farm Bell blog submissions.

Want to subscribe to the Farm Bell blog? Go here.