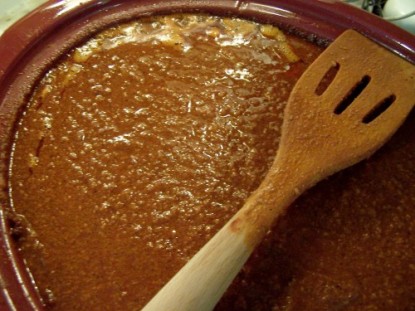 Difficulty: Easy
Servings: unlimited!
Cook Time:
several hours
Ingredients
Hamburger 10 lbs.
Tomato Paste 4 cans (the 12 ounce cans)
Black Pepper 2 Tbsp.
Garlic Powder 5 Tbsp.
Dehydrated Onion Flakes 1/2 cup
Fresh Garlic Cloves, minced 1+
Oregano 1 1/2 tsp.
Chili Powder 3/4 cup
Tomato Sauce (29 ounce cans) 2 cans
Ketchup 32 oz.
Prepared Mustard 1/4 cup
Directions
Add very hot water to meat (while stirring over medium heat) to break up the meat particles – add as much water as you need – it will cook off. When meat has been broken down into tiny pieces by the hot water, add all the rest of the ingredients. Simmer for a while, stirring often. Taste & adjust seasonings, adding more garlic, onions, etc. as needed. Simmer and taste until desired consistency is reached – it will thicken as it stands, so keeping it a little less thick than you want the finished chili to be is best. Buy brand name tomato products – it does make a difference in this chili. If in doubt about the flavor, make a hotdog & try the chili as you will serve it – that is the best test. If the chili thickens up too much as you use it, add a little water. Don't go leaner than about 80/20 on the hamburger – the fat adds to the flavor. I like to add some cayenne pepper to mine, some folks add red pepper flakes.
To Can: Fill hot clean jars with hot chili, debubbling and leaving 1″ headspace. Wipe jar rims extremely well. Cap. Process in a Pressure Canner: Pints for 75 minutes, Quarts for 90 minutes at 10 lbs. pressure (adjust if needed for your altitude).  The chili will thicken a little with the canning and the meat will be even finer textured. We like it just fine after canning – I have always canned leftovers of this after cooking a large batch. Might be even better if cooked less and then canned.  Sometimes I cook a pint of this down a little to thicken, add some cumin, and use as a soft taco filling!
Categories: Canning, Condiments, Crowd-Size, Entertaining, Grill-Outdoor Cooking, Holiday, Kid-Friendly, Other Condiments, PC Beef, PC Meats, PC Other, Preserving, Pressure Canning, Sauces
Submitted by: wvhomecanner on June 7, 2010