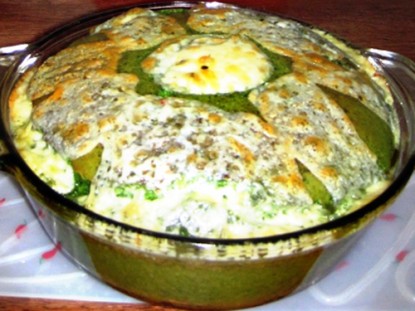 Difficulty: Easy
Cook Time:
35-55 min
Ingredients
8 cups of uncooked spinach leaves, loosely packed
5 – 7 eggs (my flock is mixed,  my eggs vary from Serama-sized to HOLY COW THAT HAD TO HURT!)
1/2 – 1 cup flour (this varies depending on how much water the spinach holds)
A strong flavored cheese (I like pepper jack, manchego, or sharp cheddar)
1 medium onion or 1 bunch green onions
Salt, pepper, seasonings to taste.
Optional:   4 or 5 slices of cooked bacon, sausage, ham, or whatever
Directions
1. Chop onions. Pan cook until onions are beginning to clear. Set aside to cool a little.
2. Pack spinach, flour, seasonings & eggs into food processor or blender.
3. Puree/liquefy. This should be pretty liquidy, but if it seems too wet add a tablespoon or more of flour. The more wet it is, the longer it takes to cook. On the other hand, too much flour makes the soufflé more like a bread, so I tend to eyeball it.
4. Pour into a greased glass pan.
5. Chop up optional bacon and a few chunks of spicy cheese; drop into mixture. Stir in cooled onions (You can always blend the bacon & onions in at the beginning, but I have a problem with liquid meat). If I am leaving out the meat, I like to blend the onions with the spinach, because then the whole soufflé is light and fluffy.
6. Cover (a glass lid is best) and bake 35-55 minutes at 375 degrees. I have found this can vary greatly based on how wet or dry the spinach was.
7. Remove when soufflé at the bottom of the pan is lightly browned and an inserted tooth pick comes out clean. Similar to when you are baking a cake.
8. Optional: Drop a few slices of spicy cheese on top, return to oven about 5 minutes and remove. Serve hot.
Categories: Egg Dishes, Other Main Dish
Submitted by: laree on October 14, 2010