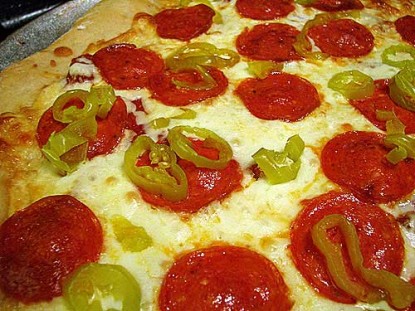 Difficulty: Easy
Servings: 2 pizza crusts
Cook Time:
20-30 min
Ingredients
1 1/2 cups warm water
1 teaspoon yeast
1/2 teaspoon salt
2 tablespoons sugar
1/3 cup olive oil
3 1/2 to 4 cups flour
Directions
In a large bowl, combine water with yeast, salt, sugar, and olive oil. Let sit for five minutes before beginning to add the flour.
Stir in flour until the dough is stiff enough to knead. Add flour a little at a time. The amount of flour is approximate; exact amount may vary slightly. Knead dough until smooth and elastic–-just a few minutes. Place dough in a greased bowl; cover. Let rise until doubled. (Using rapid-rise yeast, unless your house is very cold, the rise time should be approximately 30 minutes.)
After dough has risen, roll out directly onto a greased pizza pan, sprinkling flour on top of the dough to keep it from sticking.
I like to use a small plastic cup to roll out pizza dough instead of a rolling pin because the smaller size is easier to manage with the raised edges of a pizza pan.
Before adding any sauce and toppings, bake pizza bread at 400-degrees for about 8 minutes. Take out pizza bread. Add sauce and toppings as desired. Put completed pizza back in the oven for another 15-20 minutes. If I'm baking two at a time, halfway into the baking time I switch the pizzas on the oven racks.
For dessert pizza, use melted butter and a mix of sugar and cinnamon, or add fruit!
Another of my favorite ways to fix pizza is to skip the sauce entirely. I sprinkle olive oil on top of the prepared, pre-baked pizza bread (in place of sauce) then add my toppings. I like to use Swiss cheese, crumbled bacon, and onions and/or peppers. Yum!
Categories: Breads, Pizza Crusts
Submitted by: suzanne-mcminn on June 7, 2010