Off to the beach, park or pool side at a neighbor's? Bring the hot dogs already enclosed in bread!
I keep Artisan Bread in 5 Minutes (ABin5) in my fridge, so I'm using that.
How to make Artisan Bread in 5 Minutes Master Recipe:
Into your stand mixer or just a large bowl, dump in 1 1/2 tablespoons yeast, 1 1/2 tablespoons salt, 3 cups warm (like baby bottle) water, and a cup of bread flour; allow to sit covered for an hour.
Start mixer, or use hands or wooden spoon, add 5+ cups flour mixing until dough comes away from sides of bowl.
Put dough into a large sweater size plastic container (trust me, the shoe size will be buried and your oven will be a mess!) into the cold oven, covered, no light, no hot water. Set timer for 2 hours at which time you can put it into fridge for as long as 2 weeks and take off what you need for whatever you wish to bake. The dough can be used immediately but will be much too soft to work with successfully.
I have to use the cold oven because my kitchen must remain cold but if your kitchen is toasty warm, counter top is fine to proof.

Now you have your dough.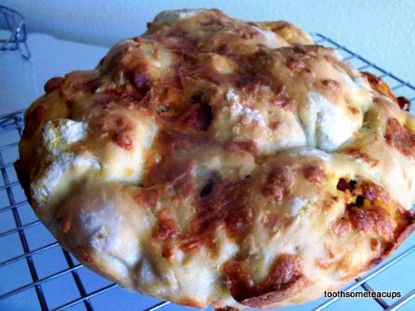 How to make Hot Dog Picnic Loaf:
Cut off a lemon-size hunk and hold it in palm of hand. Make an impression large enough to hold a squirt of mustard (or condiment of your choice), small hunk of your choice cheese (great way to use up those bits and pieces hanging around the fridge), and 1/4 of a regular hot dog. Pinch over most of the dough leaving 'breathing room' so the cheese can wander and cause mini volcanoes, and the hot dogs can get their juices baked into the dough.
These can be shaped into a parchment lined 9″ cake pan, Bundt, Tube or anything that will allow expansion as it proofs. If you put a roll in middle of top layer, be sure there isn't one under it.
Tuck into plastic bag but do not seal. Place into cold oven with the light on and a cup of very hot water along side. Let proof for 1 1/2 hours.
Sprinkle top with any melt-able shredded cheese and bake at 375F for 20 minutes. Check it with instant read thermometer (you are aiming for 200F on thermometer) and decide whether it should stay in container or be removed to inverted cookie sheet to finish baking with another 10-15 minutes. If it looks like the top is burning prematurely, lay, do not enclose (to prevent steaming), a piece of foil over.

This can also be done with hunks of Chorizo or brats of any kind. Be creative and invent new combinations like shredded roast beef leftovers with horseradish, or saucy leftover pulled pork with a spoonful of corn and/or diced green chile!

Our daily lives can be colorful and eclectic, too. Our greatest fear seems to be that to be too original one might be torn away from comfortable groups. Gradually slipping new ideas into that group will stimulate others to reach out past the limits they have set for themselves in a comfort zone that possesses them in a rut! Get a let's-make-bread group going at someone's house or church kitchen and everyone make a different shape!
Result: functional, edible and all without the extra 27 toxins!


Get the handy print page and save this to your recipe box here:
Artisan Bread in 5 Minutes Master Recipe
Hot Dog Picnic Loaf
rose weist blogs at Toothsome Teacups.

Do you have a recipe post or kitchen-related story to share on the Farm Bell blog?
See Farm Bell Blog Submissions for information, the latest blog contributor giveaway, and to submit a post.

Want to subscribe to the Farm Bell blog? Go here.
Would you like a chance to win a Euro Cuisine yogurt maker?
Click here.