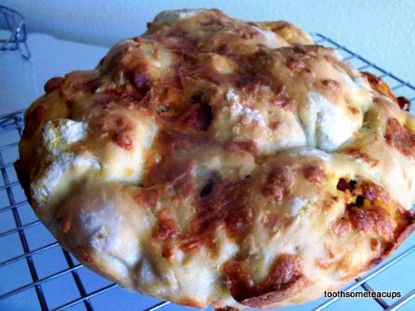 Difficulty: Easy
Servings: as many as you'd like
Prep Time:
15 min
Cook Time:
20-35 min
Ingredients
Bread dough — I use Artisan Bread in 5 Minutes
Condiments of choice
Hot dogs, brats, or Chorizo
Choice of cheese, shredded
Directions
Cut off a lemon-size hunk of bread dough, hold it in palm of hand, make an impression large enough to hold a squirt of mustard (or condiment of your choice) and small hunk of your choice cheese, 1/4 of a regular hot dog.
Pinch over most of the dough leaving 'breathing room' so the cheese can wander and cause mini volcanoes, and the hot dogs can get their juices baked into the dough.
These can be shaped into a parchment lined 9″ cake pan, Bundt, Tube or anything that will allow expansion as it proofs. If you put a roll in middle of top layer, be sure there isn't one under it.
Tuck into plastic bag but do not seal. Place into cold oven with the light on and cup of very hot water along side. Let proof for 1 1/2 hours.
Sprinkle top with any melt-able shredded cheese and bake at 375F for 20 minutes. Check it with instant read thermometer (you are aiming for 200F on thermometer) and decide whether it should stay in container or be removed to inverted cookie sheet to finish baking with another 10-15 minutes. If it looks like the top is burning prematurely, lay, do not enclose (to prevent steaming), a piece of foil over.
This can also be done with hunks of Chorizo or brats of any kind. Be creative and invent new combinations like shredded roast beef leftovers with horseradish, or saucy leftover pulled pork with a spoonful of corn and/or diced green chile!
Categories: Appetizers & Snacks, Kid-Friendly, One Dish Meal, Other Main Dish, Sandwiches
Submitted by: emmylou on July 28, 2011