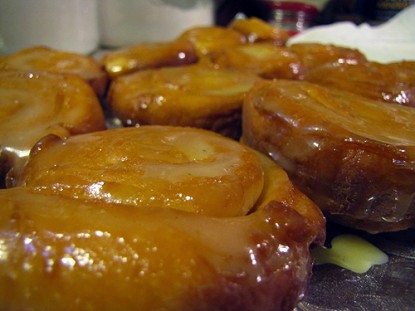 Difficulty: Easy
Servings: 12
Prep Time:
2 hours
Cook Time:
few minutes per side
Ingredients
3 cups all-purpose flour
2 tablespoons (or two packages) yeast
3/4 cup milk
1/3 cup honey
1/4 cup butter
1/2 teaspoon salt
2 eggs
Directions
Combine 1 1/2 cups of the flour with the yeast in a large bowl. In a small pan, heat milk, honey, butter, and salt on low. Pour warm milk/butter mixture into the bowl with the flour and yeast. Add eggs. Using an electric mixer, mix on low for 30 seconds then on high for 3 minutes. Stir in the next cup and a half of flour with a spoon as much as possible, then begin kneading. Add a little more flour if necessary to make a soft but not sticky dough. Let rise in a covered, greased bowl for about an hour. Punch dough down and turn out onto a floured surface. Roll out to a half-inch thickness. Cover and let rise till nice and light, about another hour. Roll the dough out flat and fairly thickly on a floured surface then start rolling it up. Put the roll in the refrigerator for at least 30 minutes to firm up. You could do this ahead of time and have the roll ready to slice and fry in the morning! Make 12 thin slices and then flatten the rolls a little extra with your hand or a rolling pin. Let sliced buns rise for about 30 minutes.
Fry in medium-hot oil one to two minutes per side. (If your oil is too hot, your buns will brown too quickly on the outside and not be done inside–be sure your oil temperature will allow you to fry one full minute per side. Oil temperature should be around 365-degrees.) Drain and cool then glaze.
Powdered Sugar Honey Glaze:
3 tablespoons butter
1 tablespoon honey
1 1/2 cups sifted powdered sugar
hot water
nutmeg (optional)
In a small saucepan, melt butter with the honey. Remove from heat. Add sifted powdered sugar and hot water, stirring well. Add just enough hot water to bring glaze to drizzling consistency. I added about 1/4 teaspoon freshly grated nutmeg. It seemed to make the taste of the glaze just right. You can leave that out if you want.
Categories: Breads, Breakfast, Pastries, Yeast Breads
Submitted by: suzanne-mcminn on February 13, 2015