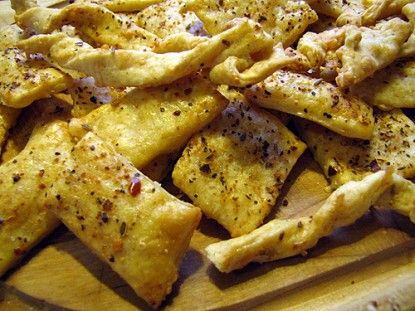 Difficulty: Easy
Servings: varies by shape and size
Prep Time:
10 minutes
Cook Time:
10 minutes
Ingredients
1 cup all-purpose flour
1/2 teaspoon garlic salt
1/2 teaspoon ground cayenne
1 cup shredded Swiss cheese
1/4 cup butter or margarine
water
1 egg, whisked
coarse ground pepper
salt
Directions
Combine the dry ingredients in a mixing bowl. Add the cheese and butter. Using a pastry cutter, blend the cheese and butter into the dry mixture. This will remain a very dry mixture. Add water a tablespoon at a time, mashing it into the dry mixture with a large spoon, until it forms a cohesive ball of dough. Do not let the dough become too wet! Be very careful adding the water. You want just enough to make a ball of dough and no more.
On a floured surface, roll the dough out. Brush on the whisked egg then sprinkle with coarse ground pepper and salt. Cut narrow strips and twist them for cracker twists, or cut flat in squares or rectangles. Place crackers on a lightly greased baking sheet. Bake in a 400-degree oven for about 10 minutes, until slightly golden and crisp.
Categories: Appetizers & Snacks
Submitted by: suzanne-mcminn on March 12, 2015