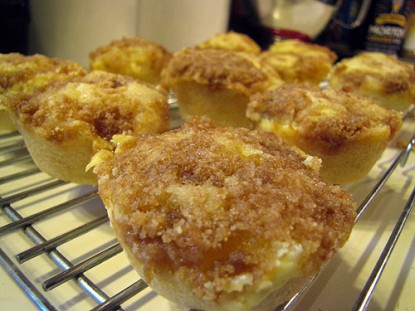 Difficulty: Easy
Servings: 12
Prep Time:
20 minutes
Cook Time:
25 minutes
Ingredients
Batter:
1 1/2 cups all-purpose flour
1/2 cup sugar
1 1/2 teaspoons baking powder
1/4 teaspoon ground nutmeg
pinch of salt
1 beaten egg
3/4 cup milk
1/3 cup melted butter
Filling:
8 ounces softened cream cheese
2 tablespoons sugar
1 egg yolk
1 teaspoon lemon juice
Topping:
1/2 cup graham cracker crumbs
1/4 cup brown sugar
1/4 cup softened butter
Directions
Place the dry ingredients in a medium-size mixing bowl. Add the wet ingredients and whisk just until combined. Prepare the filling, whisking the ingredients together. Prepare the topping, using a fork to make a crumb mixture. In a greased muffin pan, fill 12 cups half full, reserving enough batter to go over the filling later. Place about a tablespoon of cream cheese filling in each cup. Add a small dollop of batter over the filling in each cup then press the topping mixture over it.
Bake at 350-degrees for about 25 minutes.
Categories: Breads, Breakfast, Muffins, Other Breakfast
Submitted by: suzanne-mcminn on February 3, 2015