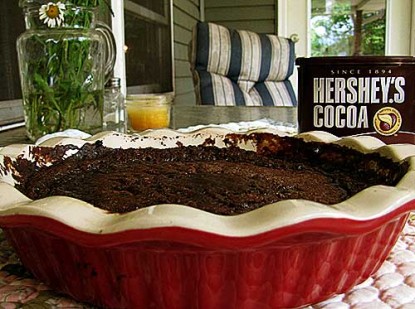 Difficulty: Easy
Servings: 6-8
Prep Time:
5 minutes
Cook Time:
25-30 minutes
Ingredients
1 cup all-purpose flour
1 cup sugar
1/4 cup unsweetened cocoa
2 teaspoons baking powder
1/4 teaspoon salt
1/2 cup milk
3 tablespoons vegetable oil
1 teaspoon vanilla
Directions
Combine flour, sugar, cocoa, baking powder, and salt. Add milk, oil, and vanilla; stir well. Spoon batter into an 8-inch square greased pan.
Mix an additional 1/3 cup sugar and 2 tablespoons cocoa. Sprinkle over batter in pan. Pour one cup boiling water over the contents of the pan. Don't stir it!
Bake at 350-degrees for 25-30 minutes. As the cake bakes, it forms two layers, one layer of sweet, moist cake and another layer of rich pudding.
As if that's not awesome enough, stick a dollop of whipped cream on top. Or, you know, two.
Categories: Budget, Cakes, Kid-Friendly, Puddings & Custards
Submitted by: suzanne-mcminn on June 17, 2010