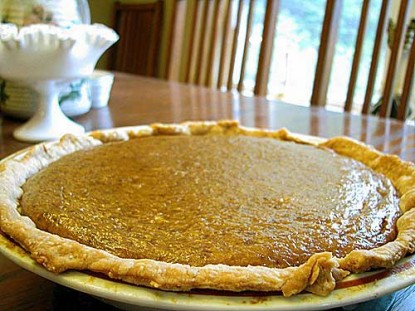 Difficulty: Easy
Servings: 8
Prep Time:
15 minutes
Cook Time:
50-60 minutes
Ingredients
2 cups prepared cushaw squash puree
2/3 cup brown sugar
1 teaspoon ground cinnamon
1/2 teaspoon ground ginger
1/2 teaspoon salt
1/2 teaspoon ground nutmeg
1/4 teaspoon ground cloves
3 large eggs
1 teaspoon vanilla
12 ounces evaporated milk
pastry for single-crust pie
Directions
Combine cushaw squash puree, brown sugar, cinnamon, ginger, salt, nutmeg, and cloves in a medium-size mixing bowl. Add eggs and vanilla then beat lightly with a whisk. Stir in evaporated milk. Mix well. Pour into a pastry-lined pie plate. Bake on the lowest oven rack at 375-degrees for 50-60 minutes (until a toothpick inserted in the center comes out clean). Chill before serving.
Note: To prepare cushaw for baking in recipes, cut it apart. Remove seeds and strings. Place pieces face-down on a greased baking sheet and bake at 350-degrees for an hour and a half (or until tender when pierced with a fork). Cool then scoop cushaw out of skin. Puree with a masher or food processor to the consistency of mashed potatoes. Use cup for cup in recipes as you would canned solid-pack pumpkin. Refrigerate up to a week before using or store in the freezer for several months.
Another note: You can replace the cushaw squash in this recipe with pumpkin or any other winter squash.
Categories: Desserts, Entertaining, Holiday, Pies
Submitted by: suzanne-mcminn on November 19, 2010