Organic health food has taken off in popularity. More and more we see "organic" labels on the food at the grocery store. We are eating healthier these days in our search for longevity and more energy. Super foods are coming into focus. One of these so-called "super foods" is the goji berry, ostensibly from Tibet where monks in the monasteries are known for their long life spans. I am sure this is the result of the book entitled "Lost Horizons" and not necessarily due to the longer life spans of the residents of Tibet.
Regardless of the reasons for this, people are eating a lot of dried goji berries bought in health food stores. I buy mine from a bulk food store by the gram and have found this to be the cheapest way.
They will grow anywhere that has a winter. They don't need any special care and will flourish in poor soil and semi dry conditions. They are very easy, although slow, growers. You should get some berries in the third year with full sun and a little care, or so I have read. The goji berry bushes I have were grown from seed this past spring and are only about 3″ tall right now. They have another two years to go before I will know for sure how long it takes to produce berries. Even if you do get berries in the third year, there probably won't be a lot of them. Of course, if you are growing them from seed, you can always plant a lot of bushes to have a bigger harvest sooner.
I planted my goji berry bushes from seed this past spring and had a good germination rate. It was an experiment, as I am always looking for interesting and unusual things to grow and trying seeds from many foods purchased.
There is an important piece of information you should have if you are going to try growing goji berries from the dried ones purchased. The berries contain a chemical prohibiting germination, so you have to separate and wash the seeds, removing any pulp or juice from the berry. Its a very simple process and I have included directions below to help you.
Here are the dried berries I used. Hard and dry.

These have to be soaked in hot water for a day or two to rehydrate. When the berries are soft and mushy, they are ready. Slit them open with a knife and you will see the seeds inside. They are very small. I use the knife to scrape the seeds into a fine strainer for washing.

Hold the strainer under warm water and wash the seeds. Use your finger to stir them around in the strainer and remove any big pieces of pulp. Rinse the berries, while stirring around, for a few minutes until you are sure all the juice and most pulp has been removed.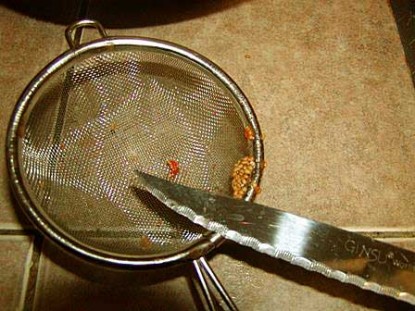 Dump the clean seeds on a paper towel and spread them out to dry. I let them dry for a week or so then placed them in an envelope and labeled.
Keep out a few for planting yourself and keep the rest for trading or giving to friends with a green thumb. After preparing a tray with soil and wetting it so that it is slightly damp, sprinkle the seeds thinly on the soil. Lightly sprinkle soil over them, but not much. Put in a warm location, keeping the soil slightly damp. It helps to keep it damp if it is covered. You should see the seeds sprouting in 4-6 weeks, or sooner. Mine took about 5-6 weeks to sprout but were in a cool window. As soon as the seeds sprout, move them into a sunny location to grow. Transplant outside when they are 2-3″ tall.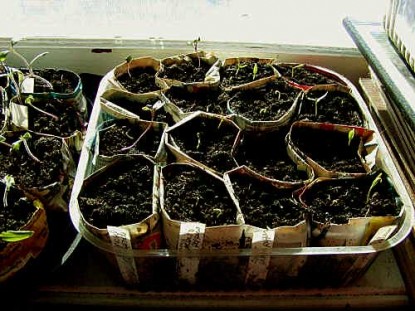 They don't need winter stratification to germinate, although they will probably do well wintersown.
This method can be used for a lot of fruits and vegetables from the grocery store. This is how I save my ground cherry seeds, as well. Some seeds may need a cold winter or scarification to germinate. You will just have to experiment.
You can see more pictures and information about goiji berries at the Wikipedia site here.
This is what my goji berrry bushes look like now, after a summer of growing. I planted them in March but they have not had a good summer.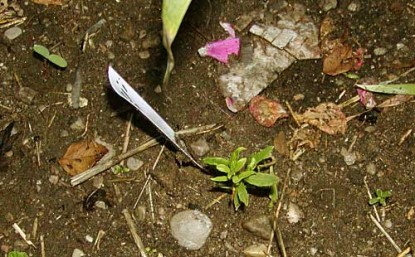 They were kept in little pots longer than they should have been and were moved a few times, stepped on and generally mistreated. Your berry bushes will probably be quite a bit bigger and healthier than these after a full summer of growing in the right spot with tender care.
It is so rewarding to plant seeds and watch them grow!

You can also find Sheryl at Providence Acres.

Interested in contributing a guest post to the Farm Bell blog? Read information here for Farm Bell blog submissions.

Want to subscribe to the Farm Bell blog? Go here.