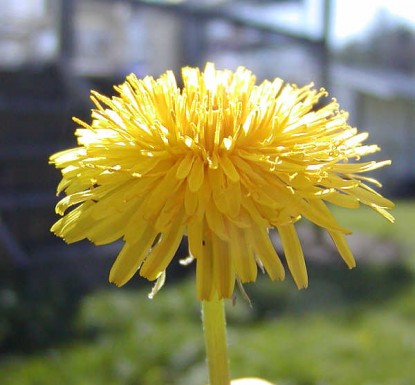 Spring is coming! It's just around the corner and the snow is half gone now! Soon the dandelions will be blooming all over our fields.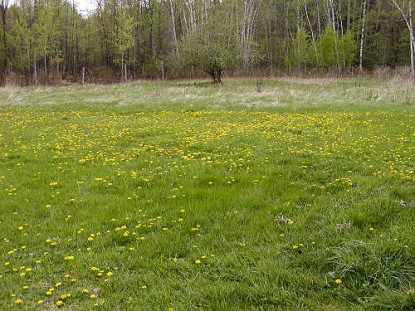 We have fields and fields of them and they are pesticide free! I sort of cultivate the dandelions–or I don't actively try to get rid of them. I like them. They really do no harm, they are useful, and they don't get tall enough to be a nuisance.
Last year I made dandelion wine, which I just bottled this morning.
This year I am going to make more dandelion wine. I have collected only the petals in years past for wine making but I have been told that the entire flower can be used for making syrup without bitterness. I don't know about that but it will certainly make the collecting of enough material go a lot faster.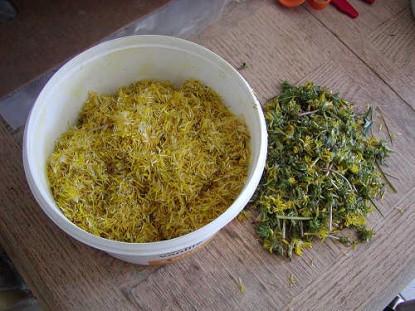 I also plan to collect the tiny leaves for eating and freezing like spinach for soups and stews and sauces.
And dandelion syrup! It taste slightly nutty with a hint of vanilla all by itself! Eat over waffles or ice cream or make a drink with it. Glaze meat with it. You can even heat it up and serve hot over desserts!
How to make Dandelion Syrup:
Collect as many chemical free dandelions as possible. Put just the washed heads into a pot and barely cover with water. Boil for some time, about 20-30 minutes. Remove those heads with a sieve and add another pot full of flower heads to the water and boil these for 20-30 minutes. The more dandelions you boil in the water, the stronger the flavour will be.
When you have boiled all the flowers you plan to boil, remove flowers with a sieve and strain liquid. Add sugar–1 part sugar to 1 part water. Let boil until thick and syrupy.


Bring it on, Spring! I'm ready!!
Get the handy print page and save this to your recipe box here:
Dandelion Syrup.
See more recipes using dandelions!



Sheryl – Runningtrails blogs at Providence Acres Farm.

Do you have a recipe post or kitchen-related story to share on the Farm Bell blog?
Go here to read information and submit a post to the Farm Bell blog.

Want to subscribe to the Farm Bell blog? Go here.