In the great minds think alike category, or perhaps it was just that similar hungers lead to similar solutions, Suzanne and I seem to have gone on the quest for cornbread salad recipes at about the same time, and finding none which suited us, each made up our own. If you compare what she posted with this recipe you will find some almost eery similarities, but honest, we didn't even know that the other was doing this!
As nearly as I can determine, there simply are no rules for making this type cornbread salad, but there are a bunch of different ways posted online for a cornbread salad which is a layered something with bacon on top. Sounds delicious, but it is not what I want when I get hungry for cornbread salad.
This really is more of a method than a recipe. Add bacon to yours if you want. Add hard boiled eggs, too, if you like. It's okay! This is how we have come to like it in our household.
How to make Cornbread Salad:
1 pan cornbread (box mix size), cooled and crumbled
1 cup (or so) finely chopped celery
1 cup (or so) finely chopped onion
3 heaping tablespoons sweet pickle relish
½ cup (or so) chopped sun-dried tomatoes
¼ teaspoon fresh ground pepper
1 cup (more or less) mayonnaise or salad dressing
Optional additions: Crisp crumbled bacon, green onions, chopped hard boiled eggs, chopped cucumber, chopped seeded tomatoes, chopped bell peppers.
First make a pan of cornbread. I am using Suzanne's cornbread recipe for making a little cornbread kit to which you add milk, oil, and eggs. You can get a pan of cornbread any way you like, including from a box, if you must. Also, I am cheating here, making the cornbread in a square pan instead of my usual cast iron pan. For the salad, it really doesn't matter what the cornbread is baked in and the square glass pan is easier for my wrists to handle. This is also a great way to use up cornbread which might have overcooked but is not really burned.
Crumble the cornbread into a bowl. The first few times I made this it was from leftover cornbread and I figured letting it get good and dry was a good thing to do. It turns out that it really doesn't matter much. Make it from fresh or from yesterday's or last week's cornbread. It will turn out fine. Leave some fairly good sized bites because the crumbling will continue as you mix it up.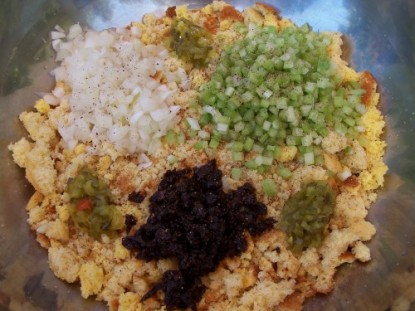 Add in the chopped onions, relish, chopped celery and chopped sun-dried tomatoes. Give it a toss. You who use salt might want to add some at this point. Don't ask me how much–we don't use salt! I usually do add in a few good grinds of black pepper. Other things you might want to add in include, but are certainly not limited to, bell pepper, hot pepper, shredded cheese, chopped hard boiled egg, bacon, green onions or maybe even pine nuts. You know what you like, so add in what you want.
There is a funny story (who would have guessed?) behind the addition of the sun-dried tomatoes. Some years ago we had run out of things with some interesting color to add to a macaroni salad. What we had on hand was a jar of sun-dried tomato packed in olive oil with rosemary. It added a lot to the macaroni salad, but the red color stained the pasta. The taste was fabulous, though. So, we never added the sun-dried tomatoes again to pasta salads, but thought it worth a try in the cornbread salad. And it is.
If your sun-dried tomatoes are packed in olive oil, consider draining them at least a little before chopping and adding to the cornbread. We like the taste of the olive oil so don't bother, but some might find it a distraction.
Also, we like the veggies chopped really fine as they seem to be more in keeping with the small size of the cornbread crumbles.
We generally make cornbread without sugar. I prefer using salad dressing when using no-sugar cornbread. This cornbread today has sugar in it and I plan to use quite a bit of sweet relish, so prefer using mayo under those circumstances.
The dryness of your cornbread will impact how much mayo or salad dressing you add. The amount of olive oil (if any) in your sun-dried tomatoes will as well. So, just add it until you have the consistency you want. We like it on the dry side–moist enough to kind of hold together but not soupy.

Mix it all together well. Chill to blend the flavors. Serve and enjoy!
Get the handy print page and save this recipe to your recipe box here.
Interested in contributing a guest post to the Farm Bell blog? Read information here for Farm Bell blog submissions.

Want to subscribe to the Farm Bell blog? Go here.