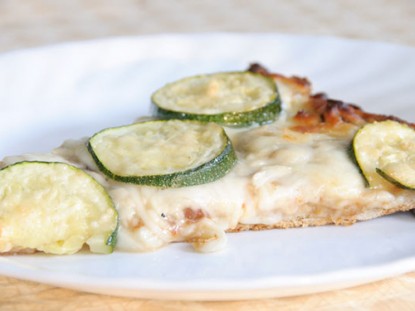 Difficulty: Easy
Servings: 16 nibblers or 4-8 normal pizza lovers
Cook Time:
12-15 min
Ingredients
3-4 cups pizza sauce, purchased or homemade
2 lb. grated mozzarella cheese
2 lb. crimini mushrooms, sliced
2 lb. small zucchini, sliced
grated parmesan cheese
Directions
Spread the sauce evenly over the dough as thick or thin as you like. We like a generous amount of sauce and use quite a bit.
Add about a half pound of shredded mozzarella, a layer of sliced mushrooms, another layer of mozzarella,
and finally, the sliced zucchini **. Finish by sprinkling the grated parmesan over the zucchini slices. You can sprinkle it on the slices only, or over the entire pizza — the choice is yours.
Bake 12-15 minutes at 450 degrees. Remove when the bottom has browned nicely and the cheese on top is bubbling and beginning to brown.
Let stand a minute or two to allow the cheese to set up a bit, then cut into slices. Otherwise it'll stick to the cutting tool, string all over the place, and then the toppings slide here, there, and everywhere. Trust me, it just works better if you let your pizza breathe for a minute after it comes out of the oven.
**You don't have to layer in this order. I do because I've found that the zucchini makes the pizza watery if it's not on top where the extra moisture can evaporate from it. The same is true of the mushrooms if they're under all the cheese. If they're on top, they dry out more than I like.
Categories: Pizza
Submitted by: laurap on October 4, 2010