I LOVE PICKLES !!!
But not the sweets….at least not any sweets I've bought. I love dill. Kosher Dill. Kosher Dill with Garlic. Dill. I really want to like sweets, after all they're sweet!
Then Pete found this perfect mix of a sweet pickle and my beloved dill pickle and shared it with us on the forum a couple years ago (my how time flies!). It's the best of both worlds. Or in my case, a sweet pickle that I actually like…no love.
It's a simple recipe with simple ingredients using a simple process with an almost instant gratification. Those are the recipes I like! The original recipe is based on using 1 gallon of dill pickles, but you can do as many as you'd like at a time–I do 1/2 gallon at a time, don't bother canning them and just keep them in the fridge.
How to make Almost Homemade Sweet Dill Pickles: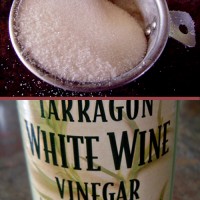 1 cup tarragon vinegar *
5 cups sugar
1 gallon dill pickles

* When doing my first batch of these pickles two years ago, I had tarragon vinegar on hand. Pete didn't–she made her own by infusing white vinegar with fresh tarragon. That's what I keep on the shelf now.


Prepare jars and canning equipment.
Drain and slice pickles into chunks. Drain again after slicing. Pack sliced pickles into clean pint jars. (Wide mouth pints are easier to manage with chunks of pickle.) I use quart jars, it's just easier for me.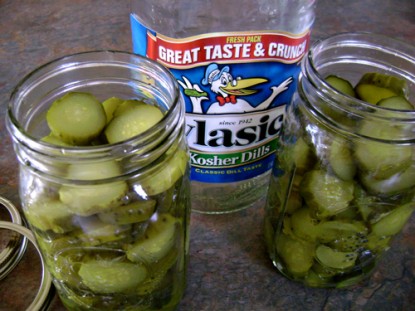 Dissolve sugar and vinegar over medium heat, stirring frequently, until clear.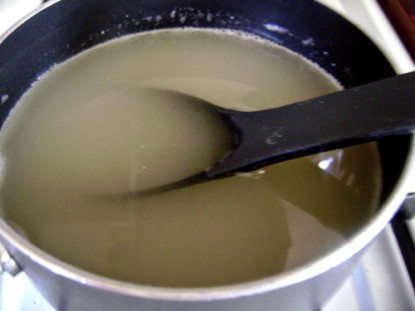 Pour the hot syrup over to cover, leaving 1/2 inch head space.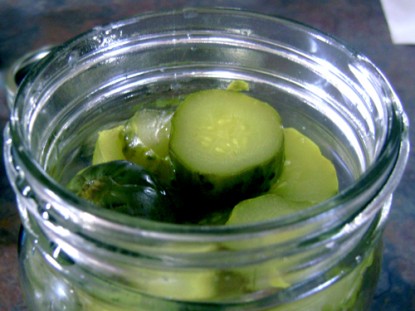 Process in Boiling Water Bath for 10 minutes.
Allow to sit at least 24 hours before tasting. If you can wait that long! However, the taste does get better and better the longer you leave them sit.


Get the handy print page and save this to your recipe box here:
Almost Homemade Sweet Dill Pickles.

Cindy blogs at Chippewa Creek ~ Our Life Simplified.

Do you have a recipe post or kitchen-related story to share on the Farm Bell blog?
Read information here for Farm Bell blog submissions.

Want to subscribe to the Farm Bell blog? Go here.