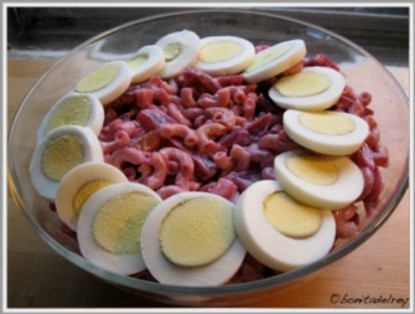 Difficulty: Easy
Servings: 4-6
Prep Time:
20 minutes
Cook Time:
(chill time) 2 hours
Ingredients
8 oz uncooked whole grain elbow macaroni
one pint pickled beets
2 Tbsp grated white onion
4-6 Tbsp beet juice
1/4 to 1/2 cup sour cream or sour cream and mayo
3 sliced hard cooked eggs
Directions
Drain beets, reserving liquid. Cut beets into matchsticks. Add grated onion to beets and set aside. Cook macaroni according to package directions. (Or, if you're an anarchist, cook to your liking.) Pour still-warm macaroni into mixing bowl. Add beet and onion mixture as well as 2 Tbsp beet juice to macaroni. Cool to room temperature.
Mix 2-4 Tbsp of remaining beet juice with 1/4 to 1/2 cup sour cream or sour cream and mayo until dressing is a pleasing pink, tastes great, and has a inviting consistency. Add salt and pepper to taste. Pour dressing over salad, mix well and chill. Immediately before serving, garnish with 3 sliced hard cooked eggs. Serves 4-6.
Over the years, I've made this salad six ways to Sunday; partly because I like it, partly because it's easy, and partly because its variations are endless. You'll find the six variations in the blog post, Pink Elbow Salad.
Categories: Beans, Grains & Rice, Kid-Friendly, Old-Fashioned, Other Side Dishes, Pasta Salads, Potluck, Vegetable Salads, Vegetarian
Submitted by: bonita on September 14, 2011