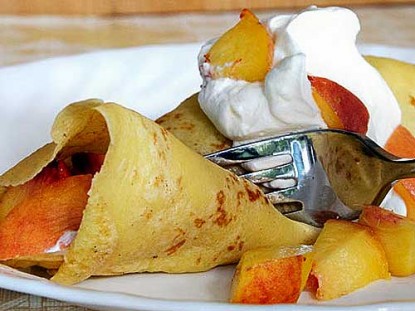 Difficulty: Easy
Servings: 7-8 pancakes
Prep Time:
10 minutes
Cook Time:
a few minutes
Ingredients
1 cup flour
2 tablespoons sugar
1/4 teaspoon salt
3 eggs
1 1/2 cups milk
1/3 stick melted butter
additional butter for oiling skillet between pancakes
Directions
Measure out 1 cup flour, 2 tablespoons sugar, 1/4 teaspoon salt, 3 eggs, 1 1/2 cups milk and mix well. I toss it all into the blender and puree it smooth. Melt 1/3 stick of butter. Add to mixture and mix thoroughly.
Warm the skillet using medium heat and lightly coat with butter to prevent sticking. When butter bubbles, add 1/3 cup batter to the skillet. Quickly tilt and turn the skillet to spread the batter in a large circle. Cook until the bottom browns slightly. Flip over and cook until lightly browned. Fold the cooked pancake into thirds and remove from the skillet. Repeat until all batter is used. Serve with fresh fruit, syrup, or lightly dusted with powdered sugar.
Categories: Breakfast, Griddles, Kid-Friendly, Old-Fashioned
Submitted by: laurap on August 23, 2010