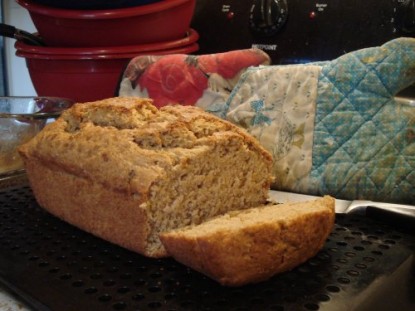 Difficulty: Easy
Servings: one loaf
Cook Time:
1 hour
Ingredients
2 mashed bananas
1 cup pumpkin puree
1/4 cup oil
2 eggs
3/4 cup oats
2 cups flour
1 tsp baking powder
1/2 tsp baking soda
1/2 tsp salt
2/3 cup sugar
1/2 tsp nutmeg
1/2 tsp ginger
1 tsp cinnamon
Directions
Spray loaf pan with cooking spray. Preheat oven to 350 F.
Mix banana, pumpkin, oil, and eggs in a large bowl. Then mix in oats.
Mix flour, sugar, baking powder, baking soda, salt, nutmeg, ginger and cinnamon in medium bowl with a whisk.
Stir dry mix into wet mix and beat until just moist.
Bake at 350F for 1 hour (or until toothpick comes out clean).
Categories: Breads, Fruit Breads
Tags: Fall
Submitted by: beforethedawn on December 14, 2010