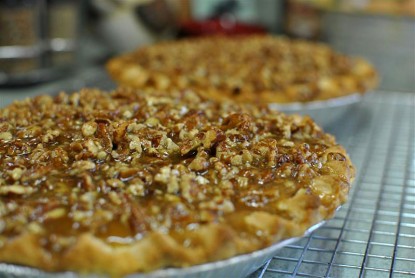 Difficulty: Easy
Servings: 8
Cook Time:
45 minutes
Ingredients
Pie:
6 cups sliced apples
2 Tbsp. lime juice
3/4 cup sugar
1/4 cup all purpose flour
1/2 tsp. cinnamon
1/4 tsp. salt
Deep dish pie shell
Pastry roll
2 Tbsp. butter
Topping:
1/4 cup butter
1/2 cup packed brown sugar
2 Tbsp. heavy whipping cream
1/2 cup chopped pecans
Directions
Toss apples in lime juice. Combine dry ingredients, add to apples. Fill crust with apple mixture. Dot top with butter, cover with pastry roll. Flute edges and cut steam vents. Bake at 400 degrees for 40-45 minutes.
Topping:
Melt butter in saucepan, add brown sugar and whipping cream, bring to a boil, stirring constantly. Remove from heat then add pecans. Pour over crust and bake 3-4 minutes longer.
Submitted by: kentuckyfarmgirl on August 22, 2010