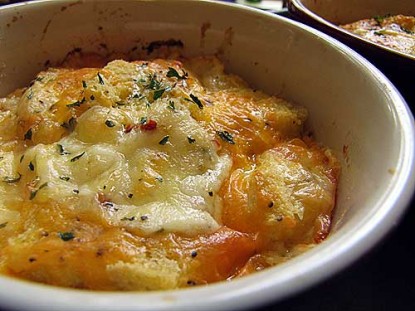 Difficulty: Easy
Servings: 1
Prep Time:
5 minutes
Cook Time:
35-40 minutes
Ingredients
1 1/2 slices bread, buttered
1 egg
1/4 cup milk
1/4 cup shredded cheese
1/8 teaspoon onion salt
1/8 teaspoon salt
6 to 8 drops hot pepper sauce
Directions
*If you're using large, thick slices of homemade bread, you will probably just need one slice.
Cut buttered bread into narrow strips. Push strips down into a greased ramekin that holds at least 10 ounces. Combine egg, milk, cheese, salts, and hot sauce. Pour over bread in ramekin. Place ramekin on a baking sheet and bake at 350-degrees for 35-40 minutes.
Note: You can use any kind of cheese you like in this recipe, and you can also add some diced vegetables in with the egg/milk mixture (such as onions, peppers, etc.).
Categories: Budget, Cheese, Dairy, Egg Dishes, Eggs, Entertaining, Main Dish, Vegetarian
Submitted by: suzanne-mcminn on August 24, 2010