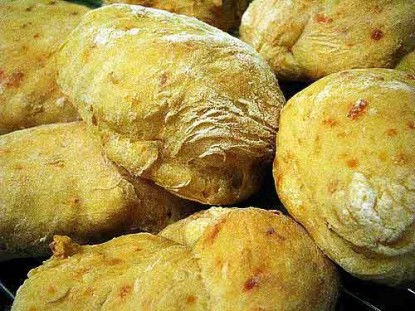 Difficulty: Easy
Servings: varies
Prep Time:
1 hour
Cook Time:
15-20 minutes
Ingredients
1 1/2 cups warm water
1 teaspoon yeast
1/4 teaspoon salt
1 teaspoon sugar
1 tablespoon minced garlic
1 cup shredded Cheddar cheese*
3 1/2 cups flour
Directions
*Use any cheese you want. Want it even cheesier? Add more. You can. You have my permission!
In a large bowl, combine water, yeast, sugar, salt, garlic, and cheese. Let sit five minutes. Stir in the first cup and a half of flour with a heavy spoon. Add the next cup of flour a little at a time as needed, stirring until dough becomes too stiff to continue stirring easily. Add a little more flour and begin kneading. The flour measure is approximate–your mileage may vary! Continue adding flour and kneading until the dough is smooth and elastic. Let dough rise in a greased, covered bowl until doubled. (Usually, about an hour.) Uncover bowl; sprinkle in a little more flour and knead again.
Shape into rolls. Any kind you like! If the dough gets sticky as you pull it apart to form rolls, sprinkle on a little flour. Make large rolls for sandwich or sub rolls. Make simple round rolls for dinner rolls, or shape into knots or breadsticks or anything else you like. Grandmother Bread makes the softest rolls in the world. Soooo good! (Especially when warm straight from the oven!)
Give rolls a second rise on a greased cookie sheet. Bake in a preheated 350-degree oven. Baking time will depend on the size of your rolls, but generally around 15-20 minutes for rolls. (Keep an eye on it!)
See more about Grandmother Bread here.
Categories: Breads, Rolls, Yeast Breads
Submitted by: suzanne-mcminn on July 27, 2010