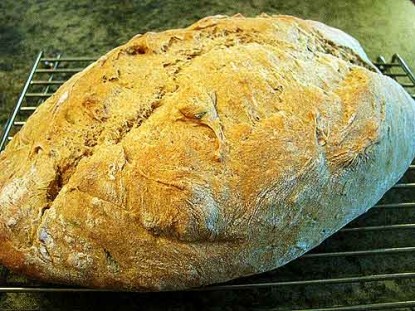 Difficulty: Easy
Servings: varies
Prep Time:
1 hour
Cook Time:
40 minutes
Ingredients
1 1/2 cups warm water
1 teaspoon yeast
1/4 teaspoon salt
1 teaspoon sugar
1 tablespoon fresh herbs or 1 teaspoon dried*
3 1/2 cups flour (various)**
Directions
*Use more or less herbs, depending on your preference! How herby do you want it to be? You decide! Choose your favorite herbs or use whatever you have on-hand. I used a mixture of fresh rosemary, oregano, and chives here.
**I used one part whole wheat flour to two parts all-purpose flour here. When using whole grains, particularly if you go straight whole grains, use homemade dough enhancer.
In a large bowl, combine water, yeast, sugar, salt, and herbs. Let sit five minutes. Stir in the first cup and a half of flour with a heavy spoon. Add the next cup of flour a little at a time as needed, stirring until dough becomes too stiff to continue stirring easily. Add a little more flour and begin kneading. The flour measure is approximate–your mileage may vary! Continue adding flour and kneading until the dough is smooth and elastic. Let dough rise in a greased, covered bowl until doubled. (Usually, about an hour.) Uncover bowl; sprinkle in a little more flour and knead again.
Shape into a loaf. I do this by taking the dough ball in my hands, holding my hands several inches apart, and "bouncing" the loaf in my hands. Bouncing and pulling a bit, to stretch it in a loaf shape. I actually do this before placing loaves into bread pans, too, but it's especially important when placing on a cookie sheet as it won't have the loaf pan to provide form. Grease a cookie sheet and place the shaped loaf on it. You can slash the top with a sharp knife if you like. Turn on the oven now to 350-degrees, and not a minute sooner. Immediately place the bread in the oven. Remember that your baking time will be longer than usual because you are preheating the oven to allow the bread some rising time while the bread is already in the oven rather than heating the oven before placing the bread inside it, as with the regular Grandmother Bread in a loaf pan. Baking time will depend on how long it takes your oven to heat to 350-degrees. The baking time for regular Grandmother Bread is 25 minutes. Done this way, it takes me about 40 minutes to get a loaf done, but keep an eye on it to figure out your own time based on your oven.
See more about Grandmother Bread here.
Categories: Breads, Yeast Breads
Submitted by: suzanne-mcminn on July 27, 2010