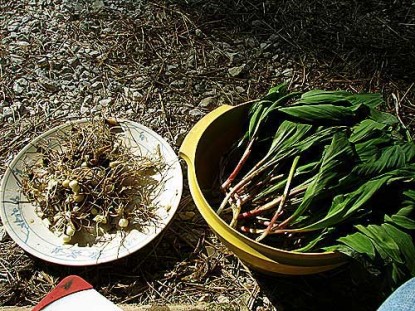 Difficulty: Easy
Servings: varies
Prep Time:
few minutes
Cook Time:
n/a
Ingredients
ramps (aka wild leeks)
Directions
Wash the leaves and bulbs in cold water, rinsing well. Lay out to dry thoroughly. To use, cut off the rooty ends from the bulbs, then separate the white parts of the ramps from the leafy greens. Slice the white parts in sections depending on your recipe. The leafy greens can be left whole or chopped, also depending on how you plan to use them. Ramps can be stored in an airtight container in the freezer for months or the refrigerator for a week or so if you don't intend to use them immediately.
Note: Save the rooty ends and plant them!
Categories: Lettuce & Greens, Tips & Tricks
Submitted by: suzanne-mcminn on April 5, 2011