Yesterday was the culmination of a four-month plan to have a freezer meal stock up party. I have been an adherent meal freezer for about two years now and have read countless books, articles, and recommendations for one day mass cooking. I have, however, never had the guts, motivation, or willpower to actually pull off a mass cooking day. The planning began approximately 120 days ago with my sister-in-law when we decided to spend one day preparing 10 meals for our patiently waiting freezers.
As with many projects the idea kept getting pushed back one more week, and one more week again. Finally, with no more weeks to go (my SIL was due to have a baby) it was decided that NOW was the time.
The first step in preparing for the big day was to find a variety of recipes. Next was to enter the recipes into a spreadsheet for easy calculation of a grocery list for multiple families. The shopping came next and finally the work began.
I wanted an assortment of chicken, beef, and pork recipes along with a collection of soups (3), casseroles (4), and prepared meats (3). The ten recipes I chose were:
Taco Soup
Italian Sausage Soup w/ Tortellini
Lasagna
Wild Rice Chicken
Wild Rice Chicken Soup
Stroganoff Meatballs
Tator Tot Casserole
Upside Down Fettuccini Pie
Hawaiian Pork
Chicken Enchiladas
Because different recipes call for ingredients in different types of measurements (one may call for 1/4 cup butter while another calls for 4 tablespoons of butter), I converted all the measurements into the same measuring type. This made it possible to add the quantities together for a more accurate grocery list.
Mass cooking is much more fun if you have a friend, or two, or three, to work with you. After all, if you are going to be in the kitchen all day you may as well have some good conversation to go with it. So, I put an option on the grocery list to enter the number of families you will be cooking for. The grocery list automatically recalculates the items you need.
I have a fairly well-stocked food storage, so it seemed logical to shop from there as well. I marked all the items on my grocery list purple if they could be found in the pantry. Even though I did use quite a bit of food storage, I was still amazed to see that my grocery bill was only 150 dollars. We prepared 20 meals (10 for each of two families) which made the total price per meal ONLY $7.50 and that INCLUDES the cost of somewhat expensive foil casserole dishes. I almost wish I would have purchased EVERYTHING just to see what the overall price would be. Maybe next time!
The cooking began at 11 a.m. All 20 meals were in the freezer by 5 p.m. In six hours we prepared 10 meals a piece, making our average time per meal about 36 minutes. This time included all preparations and cleanup, as well as recurrent suspensions to feed and care for six small children.
After a surprisingly quick trip to the grocery store, and a few trips to the basement storage room, I was ready! I laid all the food out on the kitchen table so it was all handy and ready for the stock pot.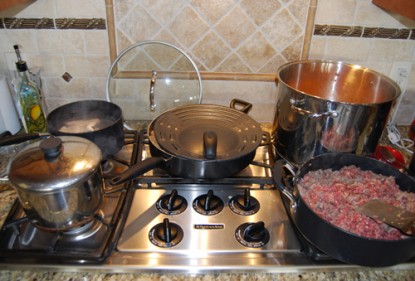 The stove was FULL almost all day!
As each meal was completed it was bagged and labeled, ready for the freezer.
One of the biggest challenges we ran into was cooling the food quickly enough to put it in bags. Luckily, it was only about 25 degrees outside, so most of the food spent a bit of time on the front porch. The chicken and wild rice soup was one of the last meals completed and we were ready to be done. I was very uneasy putting the soup into a freezer bag while it was still hot. I breathed a sigh of relief when it was finally safe in the freezer.
My attempts to photograph the final product were in vain. There was so much food I had a hard time taking pictures of it all.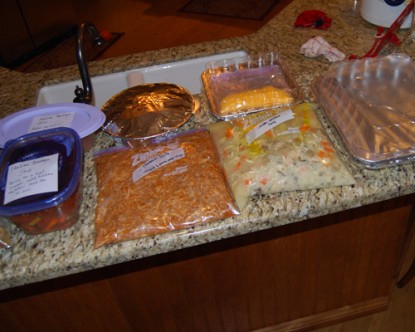 Just my portion of the food seemed like enough to feed my family for three weeks. My kids are still young so they don't eat a whole lot, but the pan of lasagna was gigantic so I am saving it for a week when I may need dinner and multiple lunches. I am quite sure almost all of the meals we prepared will succeed in feeding my family more than once.
I would love to hear your tips and ideas for cooking in mass! I was pleased with the overall experience of filling my freezer in 6 hours and I'm certain you will be too!
Note: For Excel and PDF files of the recipes, grocery list, and freezer labels, visit Dreaming of Poultry: 10 Freezers Meal in One Day.