For the first time in a long time, I have a baby in my house. It's fun and exciting and tiring and….it's a grandbaby!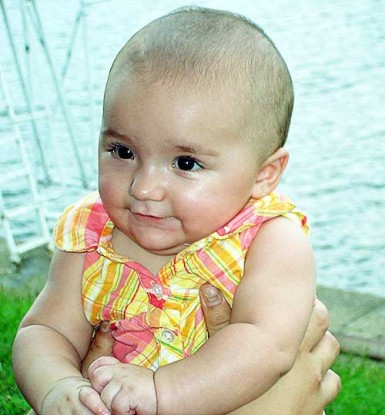 Three decades ago I was expecting my firstborn and determined to feed him in the best ways possible. I knew breast milk was all that the baby needed for the first six months, so I focused on what to do about solid foods. I canned vegetables such as carrots and green beans from my garden without salt. And I figured out the easiest ways to process and store the food so it was ready to eat.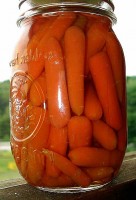 And here I am, using what I learned then–again. And happily, for my granddaughter!
Before I even knew that this little one was on her way, I had canned organic baby carrots found at my local produce place.
That was her first solid food just a few weeks ago. I processed the carrots into a puree in my old trusty food processor.


And we put some in these little food grade containers to freeze for later meals.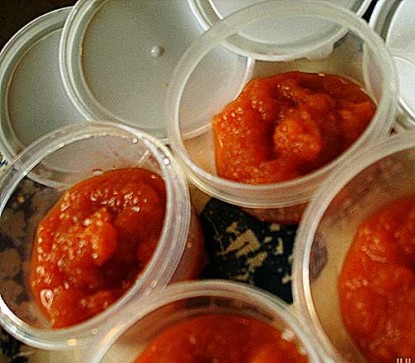 THEN I bought one of these sweeeet little contraptions!
Just exactly like the grinder that I used three decades ago–they are still made and easy to buy.
I carried my first one everywhere–now my second-born has one to use at home and take with her wherever she goes. The grinder leaves more texture to the food than the food processor.
We broke in the new grinder with freshly cooked summer squash…..
….and packed it up for the freezer also. Next came beets, green beans. The stacks are growing and baby loves every one of them so far.
Fresh bananas have been through the grinder the past two days and there are plums stewing in the crockpot as I type. We are freezing food that she hasn't tried yet and are staying ahead of the game. A container or two can be taken out of the freezer and thaws safely in the refrigerator or the insulated formula bag in a few hours, or quickly in the microwave. I also used to freeze the food in ice cube trays. Then I would pop out the frozen cubes and store those in ziptop plastic bags. I would toss a cube or two in a glass jelly jar to thaw.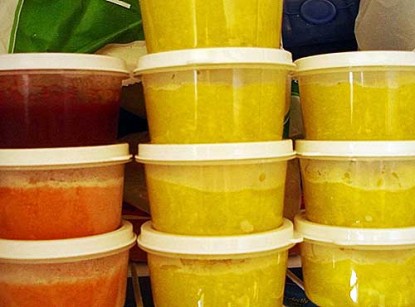 Making safe and nutritious food for a baby isn't difficult and isn't expensive. And just like canning, I really like knowing what's in the food that my family eats–especially the smallest family members.
Oh, and my firstborn? He's going to be a parent, too–in seven months!
And the baby food grinder goes back to work again next summer.
You can also find Dede at Yahoo's Canning2.

Interested in contributing a guest post to the Farm Bell blog? Read information here for Farm Bell blog submissions.

Want to subscribe to the Farm Bell blog? Go here.