I don't know about you, but I have bought hundreds of Lean Cuisines, Smart Ones and Healthy Choice meals over the last 10 years. I shudder to think about the amount of money that I've spent on them. And, while they are generally okay, they are also generally lacking in both flavor and quantity. The biggest selling point for me is that they are quick to prepare and come in a lot of varieties.
I recently decided to try my hand at making my own freezer lunches to see if it would save money. The biggest bonus to me is that I know what's in my food when I make it myself, but if I can save money too? Jackpot!
One of my favorite Lean Cuisine dishes is the Santa Fe Beans & Rice. My main issue with this particular entrée is that it just doesn't keep me satisfied long enough. It needs more protein.
I decided to make my own version of this dish, but I needed to know what was in it so I could copy it. Here is the list of ingredients, copied from the Lean Cuisine website:
"BLANCHED ENRICHED LONG GRAIN PARBOILED RICE (WATER, RICE, IRON, NIACIN, THIAMIN MONONITRATE, FOLIC ACID), SKIM MILK, TOMATILLOS, WATER, ONIONS, BLACK BEANS, CORN, PINTO BEANS WITH WATER, ROASTED RED PEPPER PUREE, CHEDDAR CHEESE (CULTURED MILK, SALT, ENZYMES, ANNATTO COLOR), 2% OR LESS OF BUTTERMILK POWDER, GREEN CHILES AND CITRIC ACID, CHILE PEPPERS, DEHYDRATED SOUR CREAM (SOUR CREAM (CULTURED CREAM, NONFAT MILK)), MODIFIED CORNSTARCH, CILANTRO, SOYBEAN OIL, GARLIC PUREE, CULTURED WHEY, SALT, SPICES, JALAPENO PUREE (JALAPENO PEPPERS, SALT, ACETIC ACID AND CALCIUM CHLORIDE), BLEACHED WHEAT FLOUR, SUGAR, POTASSIUM CHLORIDE"
This isn't the worst ingredient list I've ever seen. Almost every item on there is recognizable. However, I thought I could do a better job with much fewer ingredients.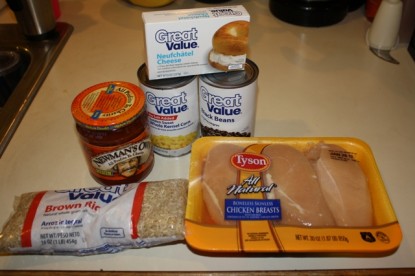 How to make Santa Fe Chicken, Beans & Rice: Printable
Chicken (extra protein!)
Salsa
Low-Fat Cream Cheese
Black Beans
Corn
Brown Rice
I started by putting my rice in the oven.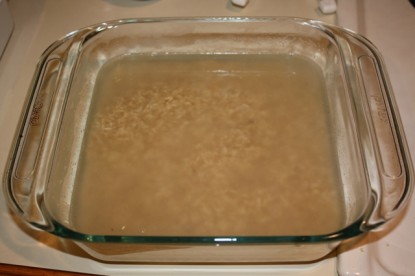 Yes! I bake my rice (Alton Brown's method). It turns out beautifully every time, it doesn't boil over, and I don't have to watch it.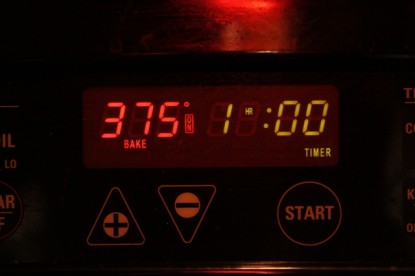 While the rice was baking, I boiled the chicken in some water and gathered the rest of my ingredients and the reusable containers that I would need for freezing everything.
Once the chicken was done, I shredded it. This is done very easily by putting it in my stand mixer.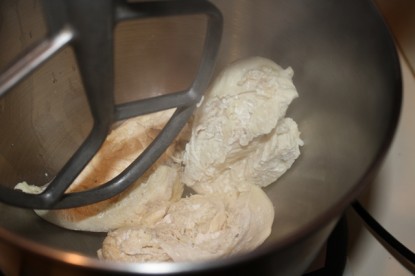 What? The Kitchen Aid? What do you mean?
I read on Pinterest that putting hot chicken into a stand mixer with the paddle blade, then turning it on low for about 20 seconds would yield perfectly shredded chicken. This turned out to be completely true! No more cutting, dicing, or shredding with two forks!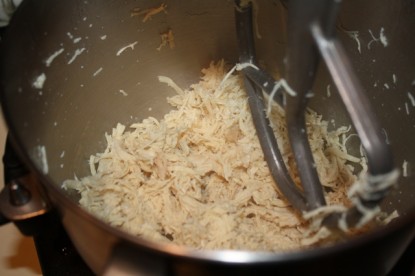 With all my ingredients in place, it's very easy to open and drain the corn and beans. You must also rinse those beans or you'll end up with a very ugly finished product. The juice from black beans discolors everything!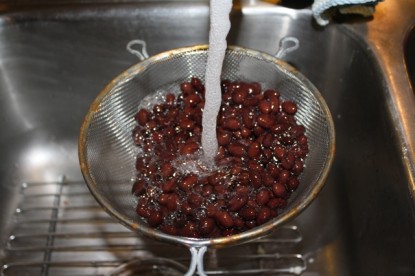 Put the corn, beans,
salsa, cream cheese,
and chicken into a medium pan.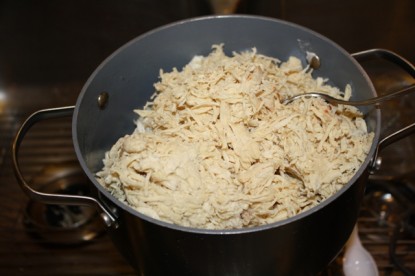 Turn the heat on the lowest setting and allow the cream cheese to get soft enough to stir everything together. Make sure you have all the ingredients mixed thoroughly.
After the rice bakes for an hour, it's ready to pull out of the oven. Fluff it with a fork and it's ready to use…or eat!
I placed 1/2 cup of the rice and 3/4 cup of the chicken mixture into each of my freezer containers and had a little bit of the chicken mixture left over. I ended up with 7 complete meals. Sometimes I'll add some additional vegetables to the container for variety.



It's time for the math:
If you can find frozen meals on sale, you'll pay about $2 – $2.25 each. That $14 – $15.75 for 7 meals.
I paid $12.22 for all the ingredients for my version. That's $1.75 each.
BUT WAIT! There's more!
For your $1.75, you also get chicken in your homemade version! If I removed the chicken, my total for 7 meals reduces to $6.24, or .89 each. In addition, I weighed the containers and found I get about 12 oz. of food per serving–so that is 7 cents per ounce. A typical frozen entrée from the grocery has 9 – 10.5 oz–21 cents per ounce.
This MYO is a win because:
Lower cost
Fewer ingredients
Better taste
Bigger quantity
They heat the same way as any other frozen entrée. I take off the lid and nuke for 3:30, stir and nuke for an additional minute. It turns out perfectly.
Right now, I do not know how long these meals will keep in the freezer. They are not air-tight or vacuum-sealed, so the freezer shelf-life will be considerably shorter. I would not advise making 50 of these at a time.