When I was a kid, my aunt bought me Betty Crocker's Breads—a tiny 76-page cookbook filled with all sorts of beautiful looking bread recipes. I spent hours looking at the color photos, reading the recipes and planning when and what I'd make from the book.
That one little book literally opened my world to the realm of bread making. I made traditional loaves and pocket bread, bagels and cinnamon rolls. I was hooked on the magic of yeast and the smell of fresh bread in the oven.
As I got older, however, my bread making slowed. Life was busy and good bread became more accessible when I moved from a small town in Montana to Portland, Oregon. A fresh loaf of bread, once a regular staple, became something I baked occasionally, and then finally, rarely. I mourned the loss of fresh homemade bread, but I brushed it off as impractical.
But all that's changed recently. And it started with another bread cookbook. This time, it was Artisan Bread in Five Minutes A Day by Jeff Hertzberg and Zoë FranÇois. Honestly, if I had discovered that book on my own, I would have rolled my eyes. Great bread in five minutes a day? Yea, right. Fortunately for me, a friend found it and sent me a picture of her first loaf that she said tasted as beautiful as it looked. I went to the library the very next day and found a copy of the book.
Once again, homemade bread has become a regular staple in my life. Only this time, it's EASY! No kneading, no rising and punching down. Nothing that makes making bread hard. As a matter of fact, the 'master' recipe only has 4 ingredients and takes less than 5 minutes to prepare.
The recipe I made this week, however, is one of my favorites from their book. It's called Oatmeal Pumpkin Bread. Although containing a few more than 4 ingredients, it's still easy to make and most delicious. It's moist with pumpkin, hearty with whole grains and has just a touch sweet from the honey.
How to make Oatmeal Pumpkin Bread:
1 cup pumpkin puree
2 cups lukewarm water
1 1/2 Tablespoons yeast
1 Tablespoon kosher salt
5 Tablespoons unsalted butter, melted
1/3 cup honey
1/2 cup old-fashioned oats
3/4 cup whole wheat flour
3/4 cup rye flour
4 cups unbleached all-purpose flour
This recipe makes 3 loaves of bread, but I doubled it, as it stays fresh in the fridge for up to 9 days. I realized I was short about 1/2 cup of pumpkin by doubling it, so I used a leftover baked yam that I skinned and mashed before adding it to the mix.
What I love about this whole concept of bread making is that all the labor and guesswork is taken out of it. Simply stir the above ingredients together and let 'rest' on the counter for 2 hours. I use a lidded bread dough container for my dough, but I keep the lid ajar.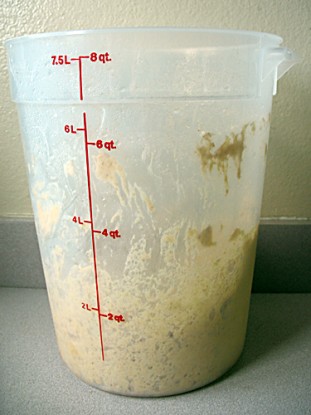 After 2 hours, it's either ready to form into a loaf (this recipe makes 3 loaves, but they don't have to be baked at the same time) or stick in the refrigerator. With this recipe, I usually refrigerate it, as the dough is very sticky and hard to work with if you don't. However, if you choose to bake now, grab a 'cantaloupe-sized' piece of the dough, dust it with flour, shape it into a ball as you stretch the dough down around to the bottom on all sides. Place this ball in a lightly greased nonstick loaf pan. Let it 'rest' again. If you're using un-refrigerated dough, rest time is only 40 minutes. If it's refrigerated, let it rest for 2 hours.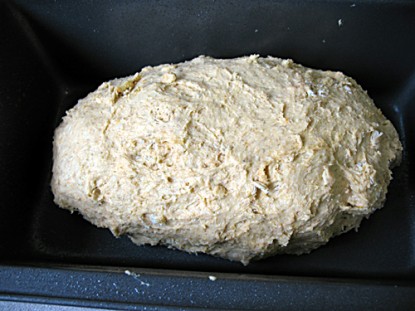 Bake at 350 for 45-50 minutes. (They do include directions for making it 'artisan' by using steam in the oven. I use this method on the regular 'master recipe' from the book, but not the pumpkin loaf. I like this one to be soft inside and out.)
The nice thing about this way of making bread is that I can make a loaf or two of bread just for everyone to eat fresh and hot out of the oven. Then the next day, while I'm making homemade soup, I can use the dough to make dinner rolls. I can also throw some more dough into a loaf pan to make some bread for the neighbors and make an extra loaf to use as sandwich bread for some turkey sandwiches all at the same time, with little effort. The dough is versatile, easy, super tasty, and really does only take about 5 minutes of active effort per day.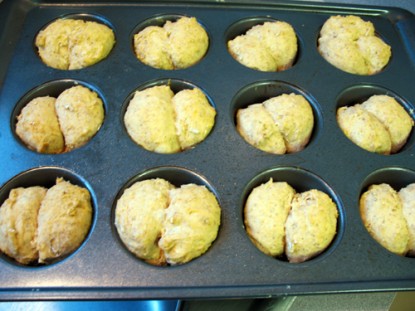 I used to spend hours dreaming and scheming my bread baking as a kid, and now I'm doing the same thing once again. Only this time, it fits into my busy lifestyle without compromising the fresh homemade taste (and smells) of bread baking in the kitchen!



Get the handy print page and save this to your recipe box here:
Oatmeal Pumpkin Bread.

You can also find Kerrie at City Girl Farming.

Do you have a recipe post or kitchen-related story to share on the Farm Bell blog?
Read information here for Farm Bell blog submissions.

Want to subscribe to the Farm Bell blog? Go here.