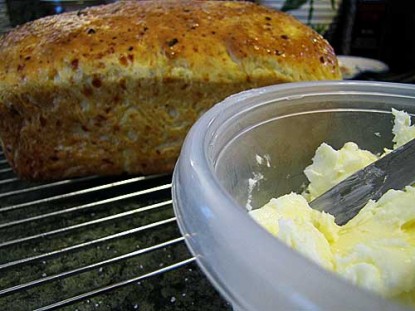 Difficulty: Easy
Servings: 12
Prep Time:
1 1/2 hours (mostly rising time)
Cook Time:
40-50 minutes
Ingredients
1/4 cup warm water
1 tablespoon yeast
1 cup creamed cottage cheese, heated to lukewarm
2 tablespoons sugar
1 tablespoon dried minced onion
1 tablespoon butter, softened
2 teaspoons dill seed
1 teaspoon salt
1/4 teaspoon baking soda
1 egg
2 1/4 to 2 1/2 cups all-purpose flour
Directions
Soften yeast in warm water. Add cottage cheese, sugar, onion, butter, dill seed, salt, baking soda, and egg. Beat to combine. Add flour gradually; beat. When dough is too stiff to use the electric mixer, stir in remaining flour with a sturdy spoon. I only used 2 1/4 cups of the flour, not 2 1/2. Knead lightly and transfer to a greased bowl. Let rise till doubled. Punch down dough and place in a greased loaf pan. Let rise again. Bake at 350-degrees for 40-50 minutes or until browned. Brush with butter and sprinkle with salt.
Categories: Breads, Cheese, Old-Fashioned, Yeast Breads
Submitted by: suzanne-mcminn on February 9, 2011