Fresh coffee and a Danish–is there really any better way to start the day? I rarely have time to prepare authentic Danish pastry with all the repeats of rolling and buttering and folding and chilling. So instead, I often cheat with a faux Danish formula that relies on an easy-to-make bread dough and simple fillings. It still takes about three hours from start to finish but the actual hands-on time is more like 15 minutes once you get the hang of it.
Start with a favorite yeast bread recipe. Grandmother Bread works perfectly, but you can use just about any yeast based bread dough. Pair it with the fruit filling of your choice–or my personal favorite, lemony cream cheese and fruit.


How to make Cheese & Fruit Breakfast Loaf:
For best results, make the cream cheese portion at least a few hours ahead of time or even the day before. Warm 4 ounces of cream cheese to room temperature and mix well with 4 tablespoons lemon juice and 4 tablespoons sugar until smooth and creamy. Chill well.
On baking day, mix your dough, knead, and set aside for first rising. (Grandmother Bread and similar white bread recipes work best when started 2-2.5 hours before baking time.)
With floured (or greased) hands, knead the dough a bit more, then roll out on a floured surface into an 8×12-inch rectangle. Carefully lift the dough and arrange on a greased baking sheet OR on a parchment paper-lined baking sheet.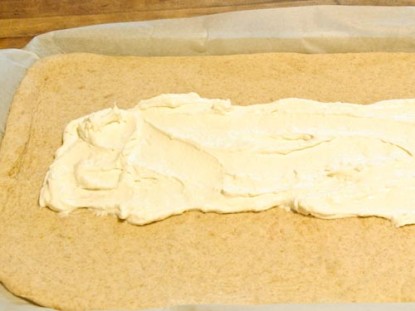 Spread chilled cheese mixture in a strip down the center length of the dough, keeping the filling about an inch from the edges. Spread 1 cup prepared fruit filling over the cheese mixture, again keeping it an inch from the ends. Feel free to use canned pie filling or your own homemade version. Fresh fruit works great, too. (I'm partial to apple slices sprinkled with cinnamon sugar).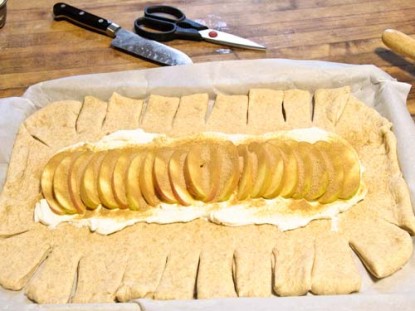 Using scissors or a knife, slit the dough at each corner, taking care not to cut closer than a half inch from the filling. Then cut slits about an inch apart down the long sides. Lightly moisten the outer half inch of the side dough sections.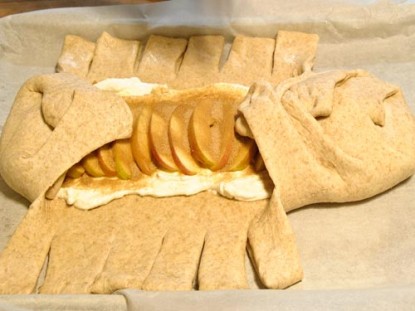 Gently fold the end sections over the filling. Then fold the side dough strips over the filling, alternating strips to form a braid-like design and taking care not to squeeze the filling out through the gaps between the strips.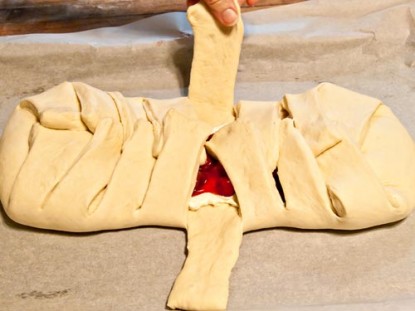 For best results, work from the ends, doing first one end, then the other, and finishing with the strips at the middle. Let rise until dough is doubled. Bake at 350 degrees about 30 minutes until golden brown. Remove from oven, brush with melted butter, and watch that rich golden color deepen.
Then try to hold on and let it cool just a little before cutting into the loaf. That hot filling oozes and burns the fingertips and tongue!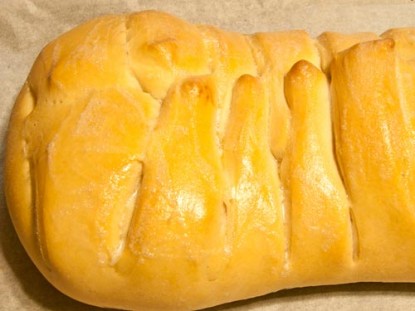 Optional glaze: while finished loaf cools briefly, mix buttercream glaze by creaming butter and confectioner's sugar together until smooth. Add a smidgeon of salt and mix well. Add milk in small amounts until desired thinness is reached. Drizzle lightly over loaf. Serve warm.


Get the handy print page and save this to your recipe box here:
Cheese & Fruit Breakfast Loaf.
LauraP blogs at The Land of Moo.

Do you have a recipe post or kitchen-related story to share on the Farm Bell blog?
See Farm Bell Blog Submissions for information, the latest blog contributor giveaway, and to submit a post.

Want to subscribe to the Farm Bell blog? Go here.
What can you enter to win this month? Click here.