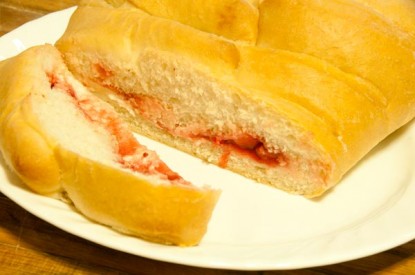 Difficulty: Easy
Servings: 8-12
Prep Time:
2.5 hours
Cook Time:
30 minutes
Ingredients
Dough ingredients:
1 1/2 cups warm water
1 teaspoon yeast
1/2 teaspoon salt
2 tablespoons sugar
1/3 cup vegetable oil
4 cups flour
Filling ingredients
4 oz. cream cheese, room temperature
1/4 cup lemon juice
1/4 cup sugar
1 cup prepared fruit pie filling (1/2 can of canned filling will work)
Optional – Buttercream glaze
2 tablespoons butter
2 tablespoons confectioner's sugar
pinch of salt (optional)
1-2 tablespoons milk or water
Directions
A few hours early or the day before: warm cream cheese to room temperature and mix well with lemon juice and sugar until smooth and creamy. Chill well.
Mix dough 2.5 hours before baking : in a medium-sized bowl, stir together water, salt, sugar, oil, and yeast. Add 2 cups flour. Beat well with a sturdy spoon until lumps are gone. Add next 2 cups of flour gradually, mixing in the flour until the dough is too stiff to stir. Turn onto a floured, flat surface and knead , working in the remaining flour until the dough is smooth and elastic. Note: flour amount is approximate and can be affected by humidity and other factors. Let dough rise in a greased, covered bowl until doubled – about an hour, more or less, depending on room temperature.
With floured (or greased) hands, knead the dough a bit more, then roll out on a floured surface into an 8×12-inch rectangle. Carefully lift the dough and arrange on a greased baking sheet OR on a parchment paper-lined baking sheet. Spread chilled cheese mixture in a strip down the center length of the dough, keeping the filling about an inch from the ends. Spread the fruit filling over the cheese mixture, again keeping it an inch from the ends. At the sides of the filling, cut the dough in 1-inch strips — avoid cutting closer than a half inch from the filling if you can. Gently fold the end of the dough over the end of the filling, then fold dough strips over the filling, alternating strips to form a braid-like design and taking care not to squeeze the filling out through the gaps between the strips. For best results, work from the ends, doing first one end, then the other, and finishing with the strips at the middle.
Let rise until dough is doubled. Bake at 350 degrees for 30 minutes. Remove from oven and brush with melted butter.
Optional glaze: while finished loaf cools briefly, mix buttercream glaze by creaming butter and confectioner's sugar together until smooth. Add salt and mix well. Add milk in small amounts until desired thinness is reached. Drizzle lightly over cooling loaf. Serve warm.
Categories: Breads, Coffee Cake, Fruit Breads, Yeast Breads
Submitted by: laurap on September 1, 2011