Finally, spring is here and cultures and religions around the world celebrate by coloring eggs. Here's a quick overview/how-to of coloring, or dyeing, eggs using natural dyes.
First, lay in a supply of eggs.
Not interested in dyeing eggs? Overbooked with spring planting, holiday baking, innovative cheese making, or new-born lambs and goats? Do not despair! For mere chicken feed you can hire a battery of hens to produce dozens of naturally-colored eggs. Of course, the eggs you get depend on the hens you have. Are your hens good-ol'-Oshgosh-by-gosh gals, down home, no frills?
Or are they well-manicured-Christian-Louboutin-red-soled hens: selective in their pecking, orderly, using their own assigned and brass-labeled nesting boxes.
No hens at your palace? Make dyeing eggs part of spring cleaning. Collect the onion skins at the bottom of the onion bin, yellow or red, either will do. Colors from yellow onion skins can range from straw brown, to deep tan, to red. That's right, RED.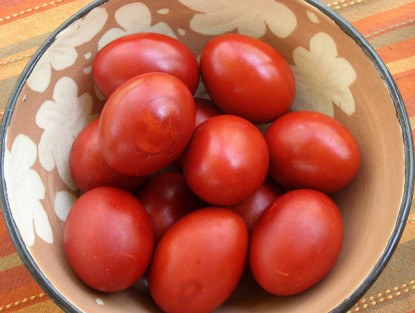 How to make Onion Skin Egg Dye:
Caution: Do not use any porous (wood, ceramic, plastic, etc.) materials—they may be dyed by the dye. If stainless pots or utensils retain dye, wash with regular detergent and a small amount of chlorine. Rinse very well.
To one quart of water, add a scant 1/4 cup of vinegar and the skins of 15 or so yellow onions.
For a mottled look, wrap onion skins around the eggs. Cover the entire egg and wrap with cheese cloth. This will keep the skins close to the shell. Secure cheesecloth with a twist tie.
Simmer the skins for 30 minutes or to desired depth of color.
Strain the colored liquid to make a clean dye. Cool. (Not straining the dye can result in beautifully mottled eggs, but you do lose a lot of color control.)
Place cool dye and clean uncooked eggs in pot, simmer 12-20 minutes depending on desired color. Remove from heat after 20 minutes. If eggs are not dark enough after the 20 minute simmer, leave in pot, cool, and refrigerate until desired color is reached.
Remove eggs from dye with a slotted spoon, cool on racks. Finally, coat lightly with olive or vegetable oil and polish.
Refrigerate until time to use.
Part of the charm of using natural dyes is that they haven't had the individuality processed out of them.


Maybe monochromatic is not your cup of tea. Perhaps you're dieing to duplicate those tablet colors of your childhood. In the spirit of homemade Hamburger Helper® and Starbucks® Mocha Frappuccino, take heart. There are ways to use natural dyes to duplicate those traditional but un-natural tablet colors. Well-chosen foodstuffs such as tumeric, red cabbage, and raspberry zinger tea will yield the primary colors. By the way, it's not mandatory to dye in Ball jars, but it can't hurt now, can it?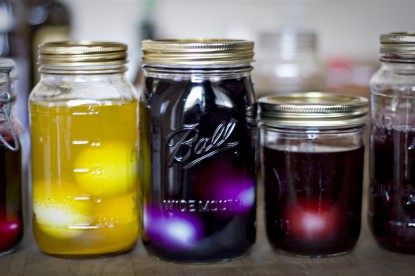 No need to tie yourself down to the primaries. Go wild! Produce a panoply of color using the garden. . .the spice rack. . . the pantry. Heck, use everything but the kitchen sink!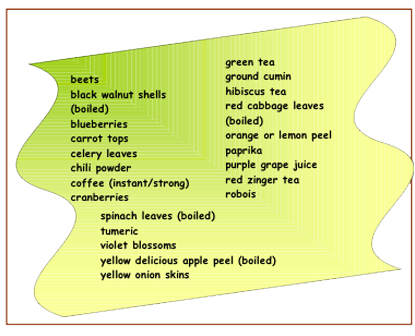 You'll have to concentrate the dyes to get vibrant colors, but it's not hard! One cup of water for each handful of dyestuff is a useful starting point. Wondering which veggies give green eggs and which give blue, which spices yield orange, and which yield tan? Well, most of your predictions will be spot on: blue = blueberries and black berries, yellow = turmeric. But there can be surprises and you'll find no spoilers here!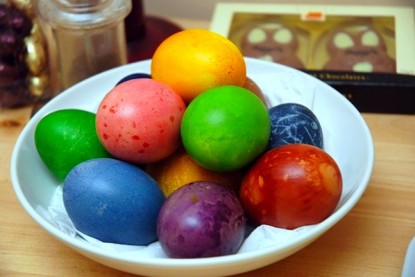 For best results, follow the directions for dyeing with onion skins. If youngsters are involved, it might be wise to make the dyes and then place hard-boiled eggs in the strained colors. Consider planning an intervening activity to distract any young participants as they wait, or can't wait, for color to develop.


Tired of featureless landscapes after this year's exceedingly long winter? Yearning for leaves and flowers?
Give Spring a boost. Add interest and images to your onion skin and fruit tea eggs by adding flowers, leaves, or other appliques. Position the desired leaf, branch, or flower on the egg. Keep the design in place by wrapping the egg with a thin, transparent material such as a nylon stocking or perhaps some cheesecloth. Smooth fabric wrinkles out as much as possible, thick wrinkles well appear as stripes. Tightly fasten the fabric with string, a small diameter rubber band, or a paper-covered twistie.
For one afternoon's time expenditure you can present a large bowl of beautifully-colored, and gently decorated eggs. Great as a centerpiece. Handy for 'egg-wars.' Good for family tradition. But, in the end, once shelled, all you have is a plain white hard-boiled egg.
Solve this by making Chinese tea leaf eggs.
Tea leaf eggs, simmered in a fragrant mix of spices, are sold as a street snack food throughout China. These eggs are beautifully marbled after they're peeled. And, they have a wonderful slightly spicy flavor.
How to make Chinese Tea Leaf Eggs:
8-12 eggs
1 teaspoon salt
2 Tablespoons (or 2 tea bags ) black tea such as Earl Grey, English Breakfast, or Pu'erh (Green tea is too astringent for this.)
6 Tablespoons light soy sauce
4 Tablespoons rice wine
4 star anise
1 Tablespoons sugar
1 stick cinnamon
3 slices of ginger
1 piece of mandarin (or tangerine) peel (optional)
1 Tablespoon sichuan (or cracked black) peppercorns (optional)
Cover 8-12 eggs with about an inch of water. Add about a teaspoon salt. Gently boil about 4 minutes or so. This is enough time for the white to begin to set, but leave the rest of the egg uncooked. Place eggs under cold running water to cool. Crack the shells by tapping with a spoon or rolling on a countertop. The trick is to be sharp enough to crack the shells, yet gentle enough to not disturb the egg contents.
Place eggs, tea, and remaining ingredients and water to cover in large pot. A crock pot seems ideal for this.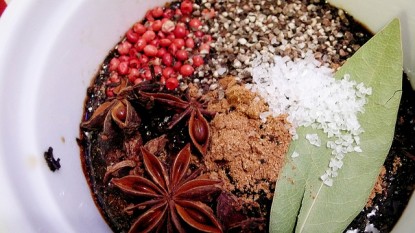 Bring to a boil, then lower heat and simmer 1 to 3 hours. Add water if level gets too low. Longer simmering time will intensify flavor. Alternately, you may want to steep the eggs in the spice liquid after the initial simmer. Serve one or two as a snack or with noodles or rice.


If you are adverse to tea or wine, you can still make impressive marble eggs. Follow the directions for the Tea Leaf eggs, but use, instead, the strong natural dyes from fruits, veggies, and spices. You'll have an extraordinary platter of marble eggs suitable for any special occasion.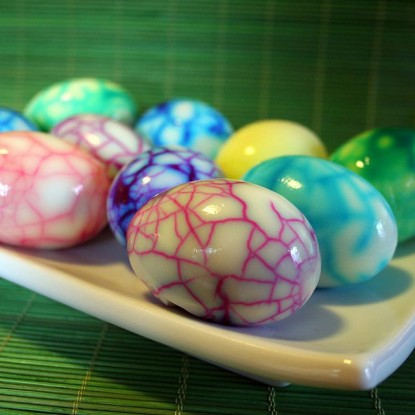 Okay now, get crackin'.
Get the handy print pages and save these to your recipe box here:
Onion Skin Egg Dye
Chinese Tea Leaf Eggs



Do you have a recipe post or kitchen-related story to share on the Farm Bell blog? See Farm Bell Blog Submissions for information and to submit a post.

Want to subscribe to the Farm Bell blog? Go here.