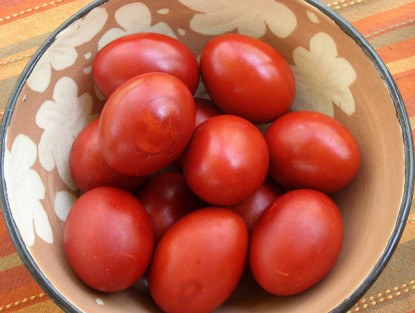 Aylanah
Several recipes for making onion skin dye are available on the web but I found this scribbled on a recipe card with the holiday desert recipes in my mom's mega recipe file. I remember using it year after year.
Difficulty: Easy
Servings: 6-12
Prep Time:
30 min,
Cook Time:
20 min, variable
Ingredients
water
raw eggs
vinegar
skins of about 15 yellow onions
Directions
Caution: Do not use any porous (wood, ceramic, plastic, etc.) materials—they may be dyed by the dye. If stainless pots or utensils retain dye, wash with regular detergent and a small amount of chlorine. Rinse very well.
To one quart of water, add a scant 1/4 cup of vinegar and the skins of 15 or so yellow onions.
For a mottled look, wrap onion skins around the eggs. Cover the entire egg and wrap with cheese cloth. This will keep the skins close to the shell. Secure cheesecloth with a twist tie.
Simmer the skins for 30 minutes or to desired depth of color.
Strain the colored liquid to make a clean dye. Cool. (Not straining the dye can result in beautifully mottled eggs, but you do lose a lot of color control.)
Place cool dye and clean uncooked eggs in pot, simmer 12-20 minutes depending on desired color. Remove from heat after 20 minutes. If eggs are not dark enough after the 20 minute simmer, leave in pot, cool, and refrigerate until desired color is reached.
Remove eggs from dye with a slotted spoon, cool on racks. Finally, coat lightly with olive or vegetable oil and polish.
Refrigerate until time to use.
Categories: Appetizers & Snacks, Eggs, Holiday, Presentation, Special Occasions, Tips & Tricks
Tags: Easter
Submitted by: bonita on April 14, 2011