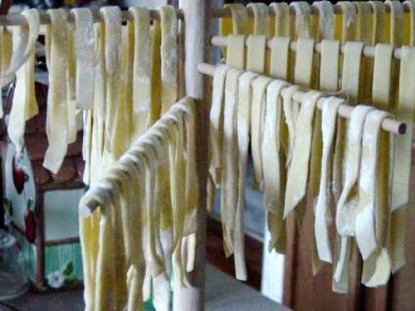 Difficulty:
Ingredients
Egg Noodles with KitchenAid and Pasta Attachment
3 egg yolks
1 whole egg
4 Tablespoons ice cold water
1 teaspoon salt
2 cups flour
Chicken Broth or Soup
3 or 4 boneless chicken breasts
Water to cover
1 onion, chopped fine
2 stalks celery (about 1 cup), chopped fine
1 carrot, grated fine
Salt and pepper to taste
1 box/can chicken broth
Directions
Egg Noodles with KitchenAid and Pasta Attachment
Beat egg yolks and whole egg together with a whisk until very light, beat in water and salt. Add flour in mixer bowl and using bread hook, slowly add egg mixture. Beat until mixture forms a ball and makes a stiff dough–about 5 minutes on slow speed.
Take ball of dough and cut into about 6 1-inch pieces. Flatten each piece, then run each piece through pasta roller on roller adjustment setting 1.
Turn mixer setting to speed 2 and run each piece through to knead. Fold flattened dough in half and run through a couple more times, until dough is smooth and pliable.
Lightly dust with flour while rolling and cutting to aid in drying and separation. Change setting to 2 and run through again a couple of times to desired thickness. Then change to desired size cutter (we used Fettucini) and roll flattened dough through to achieve noodles.
Let dry at least an hour. These noodles can be frozen for later but they're best cooked fresh.

Chicken Broth or Soup
Cook the ingredients until chicken is falling apart. Take the breasts out and cut in small pieces. Add back to your broth, I then add a box of Swanson's Chicken Broth to that so we have lots of rich liquid. Bring to a boil. Add your noodles (I break them in smaller pieces). Cook until they are tender, approximately 45 minutes to 1 hour.
This is one of those recipes that gets better reheated. When you refrigerate the Chicken and Dumplings, it absorbs all the juice. To reheat–I add another small can of broth to it and bring back to boil.
Categories: Old-Fashioned, One Dish Meal, Other Soups & Stews, Pasta, Poultry, Soups & Stews
Submitted by: ewenique on January 13, 2011