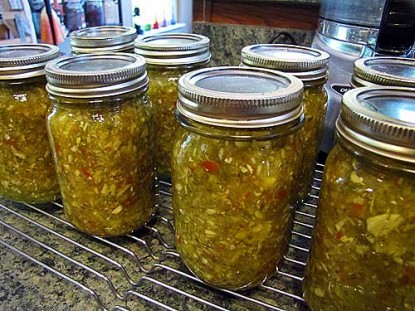 Difficulty: Intermediate
Servings: 11 half pints
Ingredients
Note: measure all vegetables AFTER chopping
(I used a food processor)
7 pints coarsely chopped unpeeled cucumbers
1 cup finely chopped red bell peppers
2 cups finely chopped cabbage
4 cups finely chopped onions
1 cup canning salt
For syrup/brine:
4 cups sugar
1 cup white corn syrup
3 1/2 cups white vinegar
1/2 tsp. turmeric
2 Tbp. mustard seed
1 Tbsp. celery seed
3 drops green, 1 drop yellow food coloring
(remember I was shooting for a clone of commercial relish)
Pickle Crisp (calcium chloride) for added crispness
Directions
Mix chopped veggies and salt together, cover with cold water, let stand overnight
Drain, rinse well twice, drain well.
(this is where the pillowcase tip is wonderful – put it all in a clean pillowcase before soaking – easy to soak, rinse, drain without losing a lot of the veggies)
Bring syrup ingredients to a boil, then add drained veggie mix.
Bring almost to a boil again.
Pack into jars, adding Pickle Crisp as box directs.
Process in boiling water bath for 10 minutes.
Categories: BWB Condiments, BWB Pickles & Pickled Stuff, BWB Vegetables, Preserving, Relishes & Chutneys
Submitted by: wvhomecanner on April 22, 2010