I am calling these Autumn Pies because they are made with squash and not pumpkin. I grow a lot of maxima squash for baking as it seems to be the sweetest and densest of the cucurbit squash.
This year I baked several Autumn Pies ahead for our freezer and also for a Christmas fair. To make them more decorative I edged them with toasted mini marshmallows.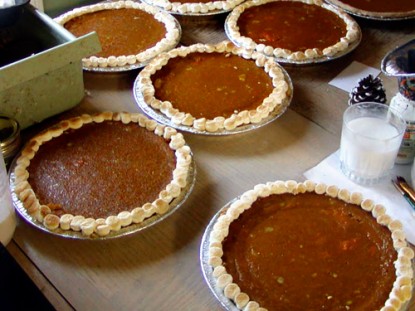 Several of the pies has darkened edges where the filling had run onto the side when the pie was tipped slightly. I cut off the dark edges and placed the marshmallows there instead. It looked great, festive and hid the unsightly edges. It also tastes great!
I toasted the marshmallows by themselves in our little toaster oven by lining them up, side by side, in rows far enough apart that the rows didn't touch when swollen in baking. Since they stick together very well, this gave me a single line of mini toasted marshmallows to lay around the edges of the pies. It was so easy! No fuss or bother and it made beautiful pies!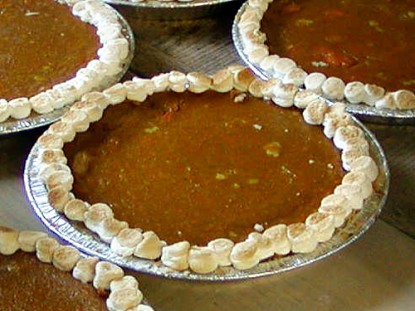 I also used the left over pastry to cut out little leaves and toasted them in the toaster oven too. I laid these in threes on top of the baked pies. They look fancy and beautiful! I apologize for not having pictures of the finished ones with leaves. They went into the freezer before I remembered to take pictures.

Sheryl blogs at Providence Acres.

Interested in contributing a guest post to the Farm Bell blog? Read information here for Farm Bell blog submissions.

Want to subscribe to the Farm Bell blog? Go here.