Venison. To some, an exotic delicacy. To others…simply "ewww". To those under my roof, it's the other red meat. You know you want to try it!
You can do it, it's easy!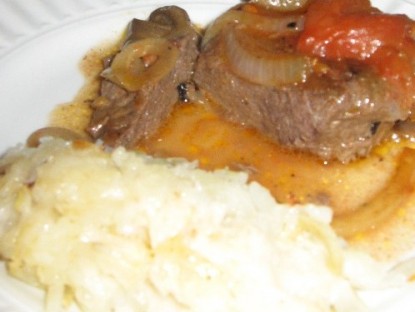 How I make Easy Venison:
I used 2 pounds of backstrap chops from the doe and buck that ManSteak and I harvested last November. Backstrap is my favorite part of a deer to work with, second only to the heart. If you can't get backstraps, use tenderloins.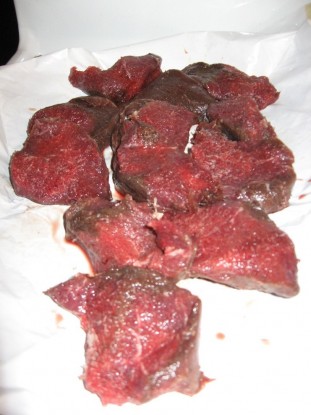 I heated about 1/4 cup vegetable oil over "6" heat on my 1-10 burner. Don't crowd the pieces. You don't want them to stew each other.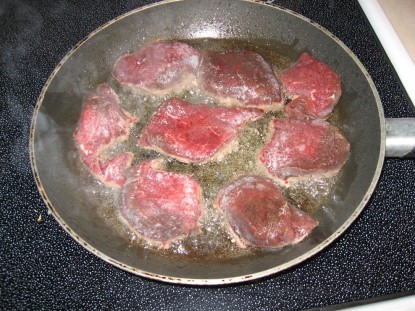 Sear for about 3 minutes on each side. You want them to be really rare in the middle. Don't worry, it'll be okay, it won't be red forever.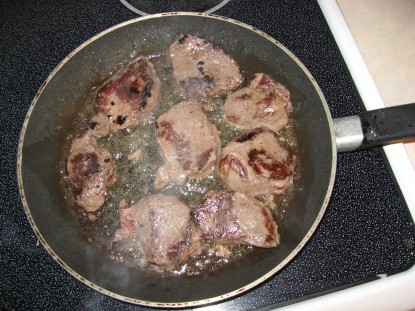 Chop a small onion, or most of a medium onion. I use white onions as we don't like sweet onion flavor. Add to the oil and saute till transparent.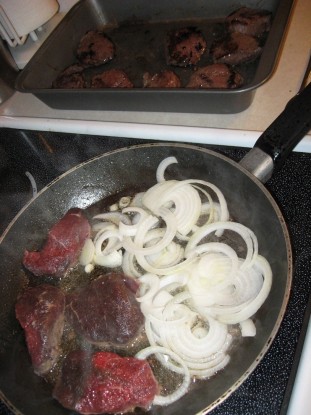 Put the meat in a baking dish and add canned tomatoes to the onions. At this point, add your seasonings. Typically, I would have dosed it heavily with cumin and chili powder, but I was going more traditional last night so I added one cube of garlic and a heaping teaspoon of sea salt.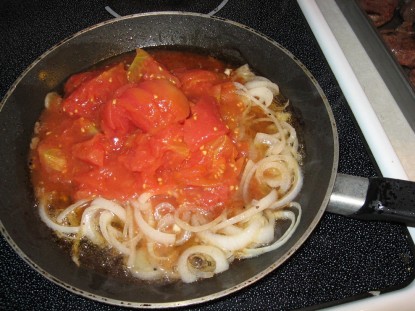 Oh and then I found like 5 mushrooms in the fridge that needed to be used so I tossed those in to simmer for a few minutes on medium-low heat. I let the tomato mixture simmer for about 5 minutes, just long enough to dissolve the salt, then poured it over the meat in my pan.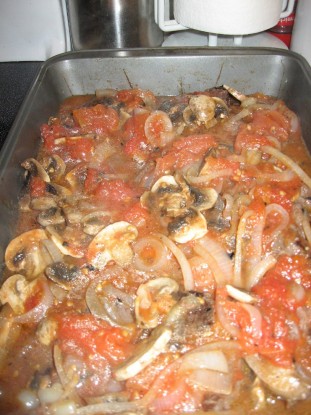 Bake at 425 for 20-30 minutes. It sizzles and sputters a lot, but that's okay. You just want the meat to finish cooking and the sauce to reduce a bit.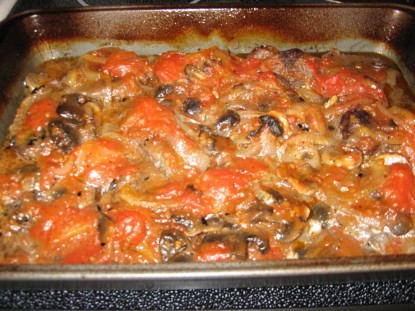 Finish off with a helping of hash browns baked with cream of mushroom soup and diced onion.


The kids had seconds.
Get the handy print page and save this to your recipe box here:
Easy Venison.

Rachel blogs at The Henway.

Do you have a recipe post or kitchen-related story to share on the Farm Bell blog? See Farm Bell Blog Submissions for information and to submit a post.

Want to subscribe to the Farm Bell blog? Go here.