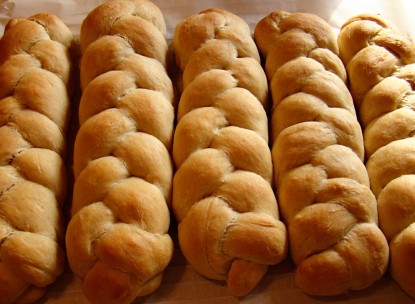 Difficulty: Intermediate
Servings: 8 loaves
Prep Time:
3 hours
Cook Time:
20-30 minutes
Ingredients
4 Cups milk
1 1/2 Cups butter
1 1/3 Cups sugar
3 Tbsp yeast
2 1/2 tsp cardamom [the fresher, the better]
2 tsp salt
10-12 Cups flour
Glaze:
1 egg
1 tsp water
Directions
Melt butter. Add milk. Warm to body temperature.
In a very large bowl mix sugar, salt and cardamom.
Soften yeast with a large spoon full of the sugar mixture and some of the warm milk.
Add yeast and milk/butter to the rest of the sugar mix in the very large bowl. Stir.
Add flour and roll to mix. Handle dough as little as possible.
Cover and let rise 1 hour.
Divide dough into 8 balls. Divide each of those into 3 smaller balls. Let rest. (Dividing takes some time, so by the time you're done dividing everything, the first set has rested long enough.)
Make a 15″ rope from each of the 3 small balls. Braid and tuck the ends under.
Let rise 30 minutes (while you're doing the rest of the loaves).
Glaze: Beat egg with 1 tsp water and brush on loaves.
Bake on greased sheet at 325 degrees for 20-30 minutes.
Categories: Breads, Breakfast, Crowd-Size, Entertaining, Gift Basket Goodies, Holiday, Old-Fashioned, Other Breakfast, Special Occasions, Yeast Breads
Tags: Christmas, Danish, Traditional
Submitted by: rurification on June 24, 2011