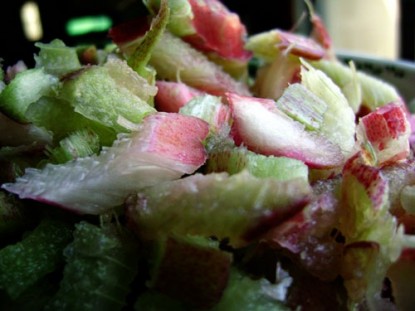 Difficulty: Intermediate
Servings: 5-1/2 half pints
Ingredients
2 pounds rhubarb, chopped
2 oranges
2 pounds sugar
Directions
Combine rhubarb and sugar in a pot and let sit over night.
Next morning, peel the oranges. Chop the pulp into small pieces and add to the rhubarb. Remove the white pith from the peel then cut into small pieces or strips. Add to rhubarb, orange and sugar mixture. Bring to boil and boil rapidly until jam stage is reached. (Times will vary, but in the neighborhood of 15 minutes, give or take.) Test on a cold plate. Pour hot marmalade into clean, hot jars and secure heated lids with bands.
Process in boiling water bath for 10 minutes.
Makes about 5-1/2 half pints.
Categories: BWB Marmalades & Conserves
Submitted by: pete on May 15, 2010