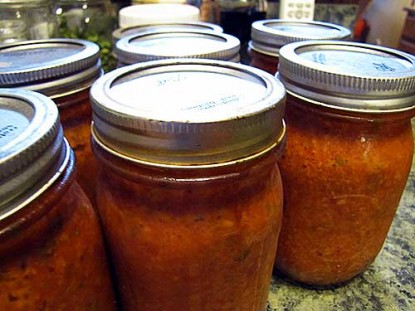 Difficulty: Easy
Servings: 10 pints or 5 quarts
Prep Time:
45 minutes
Cook Time:
1 hour PC (pints)
Ingredients
5 pounds ground beef
2 cups chopped onion
1 cup chopped peppers (hot or mild)
3 quarts canned tomatoes
4 6-ounce cans tomato paste
3 tablespoons vinegar
3 tablespoons salt (adjust to taste)
2 tablespoons brown sugar
2 tablespoons minced parsley
2 tablespoons garlic powder
2 tablespoons crushed red peppers or cayenne pepper
1 tablespoon oregano
2 teaspoons pepper
1 teaspoon ginger
1 teaspoon allspice
Directions
Brown beef in a large pot. Drain fat. Add onion and peppers and cook slowly until tender. Add remaining ingredients and simmer until thickened. If the sauce is too thick, you can add some water. (Adjust all the seasonings to taste.) Ladle hot sauce into hot jars, leaving 1-inch headspace. Process at 10 pounds pressure in a pressure canner: 1 hour for pints, 1 hour 15 minutes for quarts.
Makes plenty for dinner tonight plus a cannerload.
Categories: Budget, Canning, PC Beef, PC Meats, Preserving, Pressure Canning
Submitted by: suzanne-mcminn on June 24, 2011