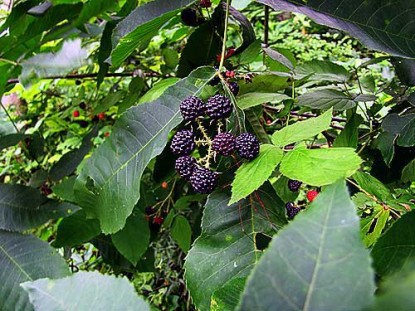 Difficulty: Easy
Servings: varies
Prep Time:
15 minutes
Cook Time:
15 minutes BWB
Ingredients
crushed berries
powdered pectin
sugar
Directions
Per each cup crushed berries (a single type of the berry listed, or a mix of berries), use 3/4 cup sugar. Use one package powdered pectin for up to a 9-cup batch.
Combine berries and pectin in a large pot. Bring to a boil, stirring constantly. Add sugar, stirring until dissolved, and return to a rolling boil. Remove from heat. Ladle hot jam into hot jars, leaving 1/4-inch headspace. BWB 15 minutes.
Note: You can make berry jam without pectin, if you prefer. Skip the pectin; combine the berries and sugar in the pot. Bring slowly to a boil, stirring until the sugar dissolves then cook rapidly to the gelling point, stirring constantly, and BWB 15 minutes.
Categories: Boiling Water Bath, BWB Jams, Jellies, Butters & Preserves, Canning, Preserving
Submitted by: suzanne-mcminn on June 25, 2011