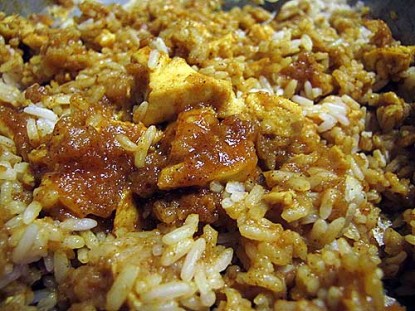 Difficulty: Easy
Servings: 6
Prep Time:
15 minutes
Cook Time:
20 minutes
Ingredients
1/3 cup pure maple syrup
3 tablespoons water
3 tablespoons prepared mustard
2 tablespoons vegan margarine, melted
3 teaspoons Cajun seasoning
3 teaspoons curry powder
1 teaspoon lemon juice
1 pound tofu, drained and sliced
3 cups hot cooked rice
Directions
In a 1/2 quart casserole dish or 8 x 8 pan, combine everything but the tofu and rice. Add tofu slices, turning to coat with sauce mixture. Arrange in a single layer. Bake at 350-degrees for 20 minutes or until hot. Meanwhile, cook rice. Serve tofu and sauce over hot rice.
I doubled the sauce ingredients because the tofu absorbs a lot, so if you want more sauce, double the ingredients listed (double everything but the tofu and rice) for extra sauce.
Categories: Beans, Grains & Rice, Main Dish, Other Main Dish, Special Diets, Vegan, Vegetarian
Submitted by: suzanne-mcminn on March 31, 2011