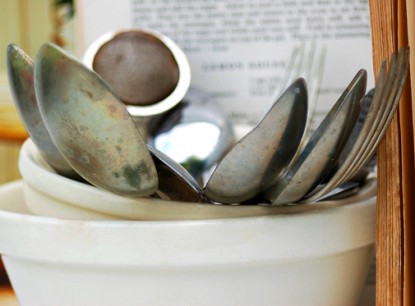 Read More
Difficulty:
Ingredients
Directions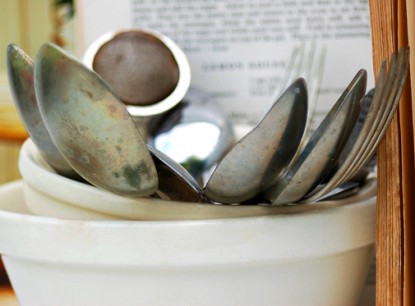 Say hello to STH from "all over the place" but currently living in Pasco, Washington!
Food interests: I'm a little obsessed with making everything from scratch and even more obsessed with proving that tasty food doesn't have to be bad for you..
Hobbies: I like to sew, quilt, and do needlework, though I don't have much spare time now that I've gone back to school. I also just got a bike for my birthday and I'm enjoying wobbling around on that. (I haven't ridden a bike in about 30 years!).
Q. What are your favorite things to cook?
I like to cook the things I like to eat–anything that's full of bright fresh flavor! This summer, I've been making a lot of main dish salads topped with grilled meats. As the weather cools, I'll be cooking more pasta dishes and casseroles full of vegetables.
Q. How/when did you learn to cook?
I hate to say it, but I come from a long line of mediocre cooks! My mother would agree with me on this–she learned how to make seven main dishes when she got married (one for each day of the week) and that's what she still cooks. And my father could barely cook at all. So I basically taught myself to cook with Julia Child and other cooks on TV and with cookbooks.
Q. Tell us about some of your cooking triumphs.
My partner was diagnosed with diabetes a few months ago and that has required a big adjustment for us. Before this, he rarely ate at home and I just cooked a few starch-heavy dishes for myself every week. Suddenly, he needed to take a lunch from home to work every day, start eating a healthy breakfast every morning, and eat a diabetic-friendly dinner every night (and he only knows how to cook a few things). So we got to work learning how to manage this and I'm very proud of how well we've done. He emailed me after his last doctor's appointment to tell me how amazed the doc was by the improvement in my honey's blood test results in the six weeks after his diagnosis. And he gives me most of the credit for that, though I think he deserves at least as much as I do.
Q. What was your most memorable cooking tragedy?
There are so many! The time I cooked a Thanksgiving turkey and forgot to take out the bag of giblets first. The first time I baked cookies on my own and the only flour I could find was soy flour, so I used that. The Hungarian (I think) pasta dish with dill that my ex wouldn't let me forget FOR YEARS.
Q. Describe your kitchen. Do you love it, hate it, and why?
I love my kitchen! I have a fair amount of cabinet space, but, more importantly, I have counter space to work on. I lived for most of my adult life in apartments with one little square of food prep space, so I LOVE my big counter. And I have a pantry for the first time–the previous owner of our house converted the coat closet to a little pantry.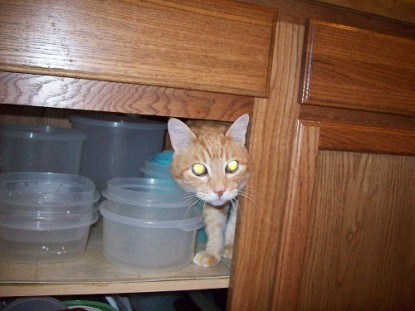 Q. Is your pantry organized and are your kitchen drawers tidy? We need to know.
I try to keep everything organized because I like to keep a very well-stocked pantry so that I can cook almost anything without having to run to the store. I do have problems losing things in my chest freezer, though. (If there's a neat way to organize a chest freezer, I'd love to hear it!) And I have a habit of using canning jars for everything and not labeling them, so I've done things like almost putting homemade facial moisturizer on a salad. Probably need to work on that one.
Q. Do you have any favorite family cooking traditions?
My partner and I have been together for four years and we're developing some traditions together, such as Sticky Toffee Pudding at Christmastime. He's from the UK and sometimes gets nostalgic for the traditions he grew up with, so he asked me to make the pudding for him our first Christmas together and we liked it so much we make it every year. We're still looking for a really good fruitcake recipe like the ones he grew up eating.
< Q. What is the one gadget (or ten) you couldn't do without in your kitchen?
I love my Black and Decker food processor–my third food processor, I think–that just keeps going and going despite getting lots of use. And I bought a used Sunbeam stand mixer that's been a great help in making my whole wheat Grandmother bread (even after I let it walk off the counter that one time). And, much to my surprise, I've found my honey's iPad to be really helpful–I'm entering my recipes in Evernote, and I just prop up the iPad on a stand on the kitchen counter and cook from that.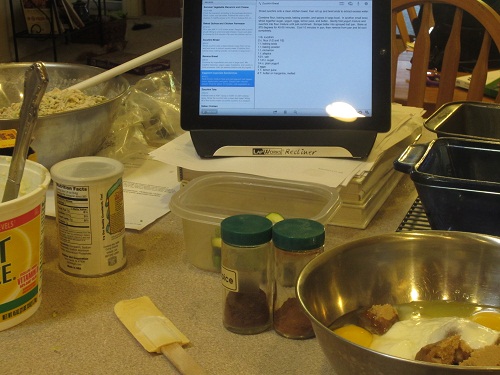 Q. If you had to take one food to a deserted island, what would it be?
Pizza! (As long as I could have different toppings on it every day, that is.)
Q. What is your go-to comfort food?
Anything starchy–bread, pastry, cookies, whatever. I love to bake, but it's not such a good idea, health-wise, so it's an occasional treat now. I do have whole wheat Grandmother bread toast with peanut butter every morning, though!
A few of STH's favorite recipes that have been submitted to Farm Bell:
Lightened-Up Cottage Pie
Individual Blueberry Cheesecakes
See all of STH's recipes and/or blog posts!
We would love to meet you! Introduce yourself!

Do you have a recipe post or kitchen-related story to share on the Farm Bell blog?
See Farm Bell Blog Submissions for information, the latest blog contributor giveaway, and to submit a post.

Want to subscribe to the Farm Bell blog? Go here.
Categories: Meet the Cook
Submitted by: suzanne-mcminn on September 24, 2012