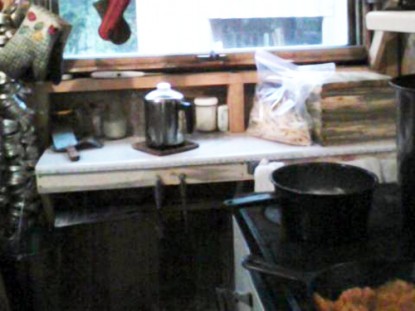 I am so excited! Last month, after a three-day long weekend, our new summer kitchen was finished and in order. Hubby built shelves, hung curtains, and just put himself at my disposal. WOW!
The "Summer Kitchen Project" was planned in order to be more economical (propane is very expensive here) and to keep the heat out of the house. And also because I want to be self sufficient and protected in the event of a disaster. Last year, I did all of my canning outside on an old wood stove and each day of canning was controlled by the weather. We had a very little cook shack that hubby used to do maple-syruping in. After the family barbeque, he ripped it down and said he was building a bigger and better one to accommodate both of us. I had NO idea that it would turn out to be this.
Let me take you on a tour! To begin with, the 10×20 building is kind of kitty-cornered to the garden and the garden shed.
Through this window is the garden shed.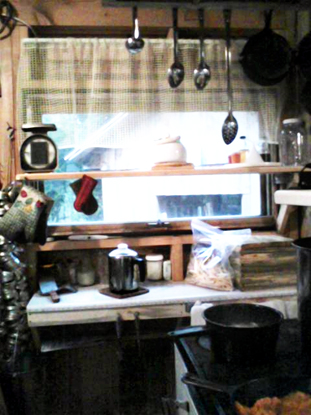 Looking through the window above the sink, I see my garden.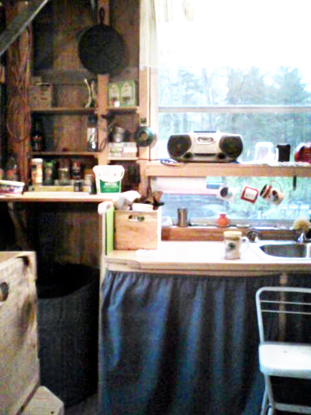 This is our little eating nook area. Excuse the tools with all the cast iron on the shelf. He hasn't gotten to all of that yet. There is a ledge at the top to hold wooden boxes with empty canning jars ready to fill (not in picture).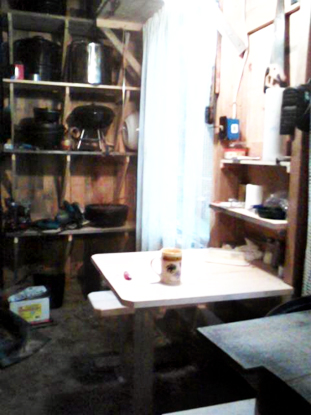 I cooked in there that whole weekend long and it feels very efficient. The real test will be when we get to harvest. That same weekend, I had to test out the canning, so I canned kidney beans. I even accomplished bread in the wood stove! Yay!
Hubby also built a chimney barbeque inside and we have been dutch oven cooking as well.
I am feeling very spoiled and grateful. I count my blessings every day that hubby shares this dream with me. Having a sawmill on site and a logger, hubby kept the costs of this adventure to $1000+ with the new-to-me wood stove cost. This was just one more step to our self-sustaining life.
It is going to be whole bunches of fun!!!