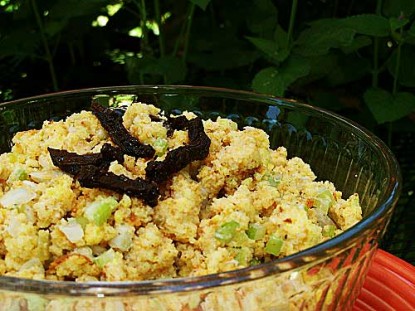 Difficulty: Easy
Servings: 8-10
Prep Time:
20 minutes
Ingredients
1 pan cornbread (box mix size), cooled and crumbled
1 cup (or so) finely chopped celery
1 cup (or so) finely chopped onion
3 heaping tablespoons sweet pickle relish
½ cup (or so) chopped sun dried tomatoes
¼ teaspoon fresh ground pepper
1 cup (more or less) mayonnaise or salad dressing
Optional additions: crisp crumbled bacon, green onions, chopped hard boiled eggs, chopped cucumber, chopped seeded tomatoes, chopped bell peppers
Directions
Bake and cool a pan of cornbread. Crumble cornbread into a fairly large mixing bowl. Add remaining ingredients except the mayo or salad dressing. (Add any salt you might want at this point as well.) Mix well.
Add about ½ to ¾ cup mayo or salad dressing to check for the consistency. Depending upon how many optional ingredients you add, how moist your cornbread might be, how much liquid is with your relish and/or sun dried tomatoes, and how dry you like salads such as this, you may want much more mayo or salad dressing. The salad dressing or mayo must be sort of cut in to keep the salad from becoming too compact.
Chill to meld flavors.
Categories: Low-Sodium, Other Salads, Potluck, Vegetarian
Submitted by: pete on July 6, 2010