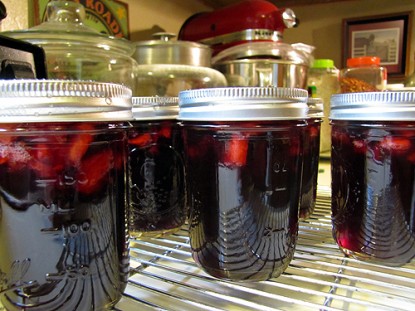 Difficulty: Easy
Servings: 10 half-pints
Prep Time:
30 minutes
Cook Time:
10 minutes
Ingredients
2 cups blackberry juice
2 cups apple juice
2 cups apple, peeled, cored, diced
2 cups blackberries, whole
1 package powdered pectin
6 cups sugar
Directions
Combine juices, fruits, and powdered pectin in a large pot. Bring to a boil over high heat. Add sugar, stirring until dissolved. Return to a rolling boil. Boil hard 1 minute, stirring constantly. Remove from heat. Ladle hot jelly into hot jars. Adjust lids and bands. Process in a boiling water bath 10 minutes.
Categories: Boiling Water Bath, BWB Jams, Jellies, Butters & Preserves, Canning, Preserving
Submitted by: suzanne-mcminn on June 3, 2015