Making a GOOD cream pie can be a daunting task if you don't know where to begin. We have all had cream pies made from Jell-O pudding, and if we haven't eaten a REAL cream pie lately, we may not fully understand that what we are experiencing is a gigantic fraud.
So let us take a minute and discuss the importance of doing it the right way! Your family will thank you on Thanksgiving Day!
The first thing you need is a baked, deep dish pie crust. For those of you who enjoy taking the time to create a homemade pie crust I salute you, it will only add to the greatness of you finished product. I, however, happen to be the world's WORST baker (although I am working hard to remedy this problem) so I choose to purchase uncooked, frozen crusts. I prefer the Marie Callenders deep dish pie crust over the kind you have to unroll (be sure it is a Deep dish crust or you will not have enough room for your cream filling). I even have a secret for making the crust LOOK homemade!
1st – Preheat your oven to 400. Remove the packaging from the crusts (Marie Callenders comes with 2 per package). Place on a cookie sheet.




After the oven is heated place cookie sheet in the hot oven for about 2 minutes. This allows the dough to become soft and pliable but not cooked.
Remove crusts from the oven and reshape the edges while dough is still warm. This eliminates the "factory" made look and no one will know you didn't make the crust from scratch!




Return crusts to the oven and cook according to package directions. (If you are pressed for time you can bake the crusts in the morning, walk away to fulfill your other responsibilities and come back hours later to make the cream filling.)



There are many variations to this cream pie filling but no matter which variation you choose, it is important to have everything out, prepared, and measured BEFORE you begin with the stove.
Variations:
Coconut Cream: Add ½ cup coconut to pie filling. Spread with whipped cream then top with another ½ cup coconut.
Banana Cream: Line crust with thinly sliced bananas.
Chocolate Cream: Add 1/2 cup melted chocolate chips to filling while filling is still very hot.
German Chocolate: Add 1/2 cup coconut, 1/4 cup finely chopped Pecans or walnuts, and 1/2 cup chocolate chips to filling while filling is still very hot.
The steps are almost all the same, so I will demonstrate a Banana Cream Pie.
How to make Basic Cream Pie: Printable
The first thing I do is measure the dry ingredients (5 tablespoons corn starch, 1 cup sugar, 1/4 tsp salt) into the saucepan but DO NOT turn on the heat.


Next, I separate 3 egg yolks into a small bowl with an immersion blender nearby and plugged in (the blender is not necessary but will beat the eggs better than a fork making your pie less lumpy).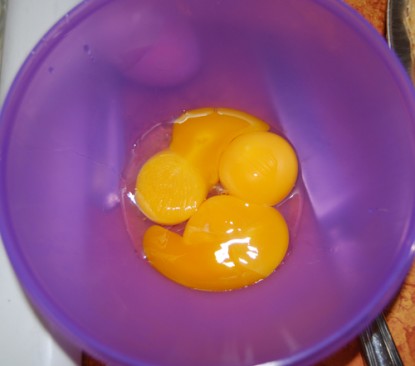 Then, I place 2 tablespoons butter and 1 teaspoon vanilla with a measuring spoon next to the stove ready to be added.

Finally, I cover the bottom of the pie crust with thinly sliced bananas. If making a different variation you will not place anything in the bottom of the crust.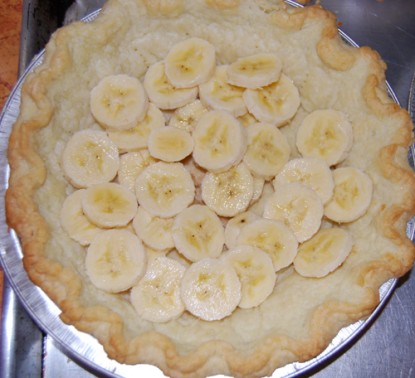 After all prep work is done, you are ready to start cooking. Be aware this goes quite fast and will burn easily if you are not giving it your full attention! So turn on Whinny the Pooh for the kids for 15 minutes.

Add 1 1/2 cups milk and 1/4 cup half & half to sauce pan. Cook on medium/high heat until thick (don't let it get too thick or your pie will be lumpy, just thick enough to begin holding some shape but still easy to stir).


Add a few large spoonfuls of thickened cream mixture to the eggs yolks and blend well (this prevents the egg yolks from cooking in the pan and causing lumps).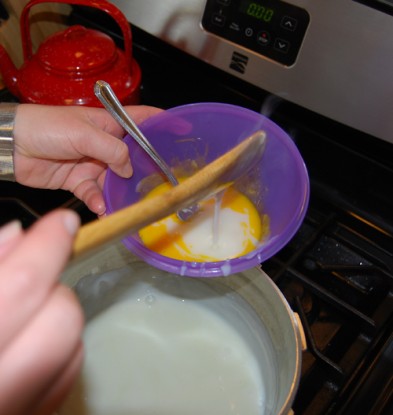 Pour egg yolk mixture back into saucepan and cook for an additional 2-3 minutes (use a timer!).


Remove from heat. Add butter and vanilla. Mix well. If you are making coconut, chocolate, or German chocolate pie NOW is when you will add the additional ingredients.


After butter (and chocolate chips, if using) is melted and mixed well, quickly pour cream filling (while it is hot!) into prepared pie crust.

Congratulations!! You are successful!!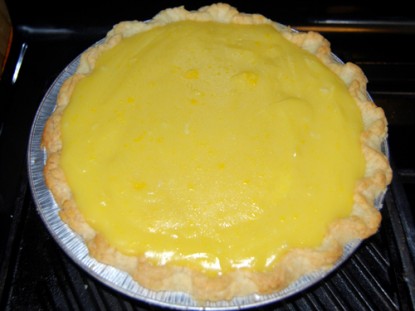 My kids are always DELIGHTED when there is more cream filling than will fit in the crust!
Serve pie with REAL whipped cream and you will be hailed as the queen of Thanksgiving.


Jayme Payne blogs at Dreaming of Poultry.

Do you have a recipe post or kitchen-related story to share on the Farm Bell blog?
See Farm Bell Blog Submissions for information, the latest blog contributor giveaway, and to submit a post.

Want to subscribe to the Farm Bell blog? Go here.
What can you enter to win this month? Click here.