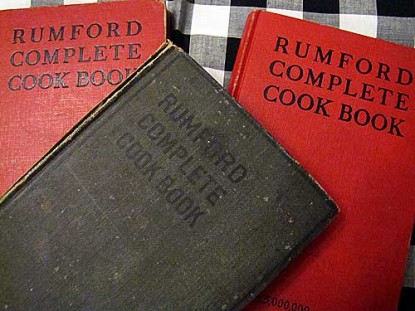 One of our community grande dames, MMHoney, gave me three copies of the vintage Rumford Cookbook. Two of these copies are from the 1948 edition while the third is the 1918 edition. (The two copies in red above are the 1948 editions.) If you are a vintage cookbook collector, stay tuned. I HAVE A GIVEAWAY.
I examined the cookbooks for clues. I'd never heard of Rumford!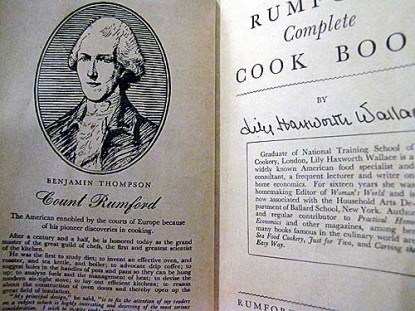 The first few pages tell us about Count Rumford. Benjamin Thompson was "the American ennobled by the courts of Europe because of his pioneer discoveries in cooking." His accomplishments include being the first to study diet, to invent an effective oven, roaster, and tea kettle, to advocate drip coffee, and to suggest holes in the handles of pots and pans so they could be hung. He designed efficient kitchens, the modern air-tight stove, and the construction of oven doors.
But is this all true? Was there really a Count Rumford? Or was he like Cap'n Crunch who sailed the seven seas in the good ship Guppy and discovered crunch berries? Count Rumford was, in fact, a real person, but the Rumford Cookbook was written by Lily Hayworth Wallace (a food specialist and consultant) for Rumford Chemical Works, which developed and sold Rumford baking powder. The first edition was printed in 1908 and it continued to print subsequent editions until the late 1940s.
Baking powder was invented in the 1840s and was sold in two separate envelopes because baking soda and cream of tartar could only be combined at the last minute before baking. In the mid-nineteenth century, a chemist named Eben Horsford developed the concept of replacing cream of tartar with calcium-acid phosphate, and with the addition of cornstarch was able to make a combination baking powder that could be sold in one package. Together with his business partner, George Wilson, he started manufacturing this new combined baking powder at Rumford Chemical Works. Rumford joined with Calumet in 1950, which was the end of the Rumford name in the baking aisle and explains why we've never heard of Rumford today.* (see update note)
But my, oh my, do we owe them our cookies. And their cookbooks are a piece of culinary history.
The Rumford Cookbook does not, by the way, limit itself to baking recipes, despite its promotional foundations. It endeavors, according to the 1918 foreward, to present "the best dishes of their kind rather than take up space for repetition of the same general recipe" and covers the gamut from soups and salads to meats and vegetables to pastries, breads, cakes, and pies. It's a fascinating look into the heartbeat of the kitchens of its time with lots of quaint extras. (What is a gill? A half a cup! Odd, that.)
*Update to note: This is an interesting page here. Apparently sometime after 1950, Rumford changed hands again and is now owned by Clabber Girl while Calumet was taken over by Kraft. According to that site, Rumford is still available (who knew? not me!) in New England and the Northeastern U.S. (though it sounds as if from the comments it can be found elsewhere). I've never seen it. Now I feel obsessed with the idea that I need some.
I'm keeping the 1918 Rumford Cookbook for my collection, but I'm giving away both copies of the 1948 edition–one here, on this post, and another today on my Cooking section at Chickens in the Road. TWO chances to win! (One winner will be drawn from comments on this post, and another winner will be drawn from comments on the matching post in my Cooking section.)
For a chance to win here: Leave a comment on this post and let me know you want it. ONE winner will be drawn from comments on THIS post by random comment number to receive one of the 1948 Rumford Cookbooks. Eligible entry cut-off is midnight Eastern (U.S.) time tonight (December 13). This post will be updated with the winner by 9 a.m. Eastern (U.S.) time tomorrow (December 14). Return to this post to claim your prize!
For a chance to win the other 1948 Rumford Cookbook, go to my Cooking section at CITR and leave a comment there for another shot!
Interested in contributing a guest post to the Farm Bell blog? Read information here for Farm Bell blog submissions.

Want to subscribe to the Farm Bell blog? Go here.
UPDATE 12/14/10: The winning comment number, drawn by random.org, is #17, Leah. Email me at CITRgiveaways(at)random.org with your full name and address for shipping!
Find the other winner at CITR in my Cooking section here.