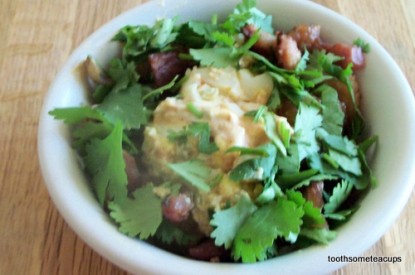 Difficulty: Easy
Servings: 1
Prep Time:
4 minutes
Cook Time:
NONE (boil eggs, fry bacon day before)
Ingredients
hard boiled egg
1 Tbsp. sour cream, yogurt, or mayo
2 pinches Chile Con Lìmon (from the veggie area of most markets especially those which sell Mexican foods) or pinch cayenne
2-3 Tbsp. cooked bacon
cilantro leaves, scissor cut
Directions
Chop a hard boiled egg* in a small bowl. Add sour cream, mayo or yogurt. Sprinkle with cooked bacon*, then top with cilantro leaves.
*I have a patio set up to cook things ahead to keep in fridge for instant snacks!
Categories: Breakfast, Egg Dishes, Eggs, Other Breakfast
Tags: healthy
Submitted by: emmylou on July 6, 2011