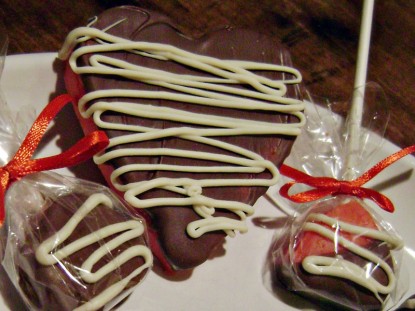 Difficulty: Easy
Servings: 5 pounds
Ingredients
2 sticks margarine
1 can evaporated milk (homemade version works well)
5 cups sugar
3 cups cherry flavored baking morsels
1 (10 oz.) bag mini-marshmallows
Dipping chocolate (I used chocolate flavored almond bark)
Dipping white-chocolate (I used vanilla flavored almond bark)
Directions
Combine margarine, milk, and sugar together.
Over medium heat, heat together until a rolling (cannot stir down) boil. Boil for 12 minutes.
Stir in cherry flavored baking morsels and marshmallows until melted. Stir like crazy!
Pour out onto a waxed or freezer paper lined cookie sheet or muffin/jello molds. Let sit until firm.
When firm, cut into desired shapes.
Melt dipping chocolate. Dip as much as you'd like of the fudge into the chocolate. Sit on waxed/freezer paper to harden.
Melt dipping white-chocolate. Put into baggie and snip corner. Drizzle or decorate as desired.
Categories: Candy
Submitted by: cindyp on February 13, 2011